Pet Care & Veterinary Packaging
Bag the Bag – Rigid Packaging Advantage
Though bags and pouches are an economic packaging choice, they limit the overall marketability when compared to rigid packaging. Rigid packaging is brand friendly, has greater shelf appeal, and provides greater functionality than does flexible packaging. Berlin Packaging can help you bag the bag and improve your product's marketability, while still maintaining acceptable profit margins.
Man's (and Woman's) Best Friend
More than half of all U.S. households own a pet. People love their pets, and owners will go to extremes to care for and pamper them. Total annual spending on pet food is over $20 billion, and pet supplies, vet care, and pet services represent another $30 billion.
Standing out in this competitive market is challenging, and packaging can play a critical role in both the aesthetics and the functionality of a winning offering.
We Have You Covered
Berlin Packaging has provided packaging solutions to the pet care and veterinary market for decades. We help brands succeed in the marketplace with superior, affordable packaging.
No matter your size, positioning, or packaging needs – we provide turnkey service; we bring you anything and everything from concept to commercialization, and we do it on-time and within budget.
Petchup
Petchup is a company that manufactures a convenient, tasty and healthy condiment sauce made especially for dogs. The packaging is designed to make it easy for dog owners to treat their pets with a sauce that makes dry kibble tastier while also adding healthy ingredients into the diet. Petchup is packaged in 16 oz. polypropylene condiment bottles with polypropylene snap-top closures.
Berlin Packaging decorated the bottles at the filler with shrink-sleeve labels that are reminiscent of condiments that are made for humans.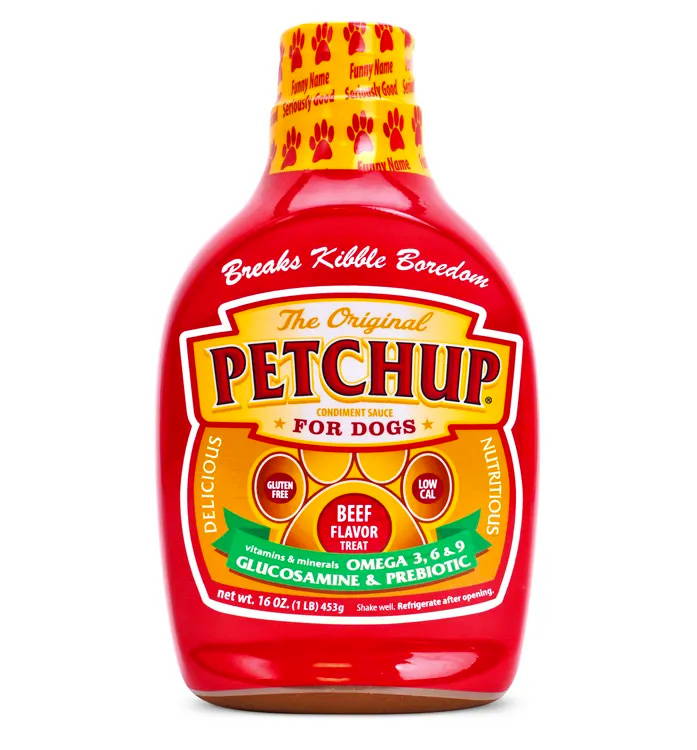 Designed for ease of use, fast application, and dispensing, veterinary bottles come in several shapes for different treatment delivery systems. Products in pet care and veterinary bottles benefit from damage-resistant packaging when used with excitable or challenging animals. Choose from a range of plastics, including durable veterinary HDPE bottles with pump, spray, and cap closures.
Veterinary Bottles With Delivery Systems
Finding easy to use delivery systems for allergy treatment and flea dosing is hassle-free with veterinary bottles fitted with dispensing pumps. For animals needing regular health care, controlling the application of their treatment means less wasted product. Veterinarians themselves benefit from bottles with dispensing pumps for fast hand sanitation between patients.
Industrial veterinary bottles with trigger sprays containing disinfectants clean exam rooms, bathing areas, and kennels quickly, protecting other animals and humans from the spread of pathogens.
Bottle Benefits
Along with tubes, pet care and veterinary bottles offer handling and shipping benefits. Bottles are sturdy, easily sit on a shelf, and pack well for shipping. With capacities up to a gallon, bottles offer benefits to industrial veterinary bottle needs. Tubes are flexible, provide fast dispensing, and are light-weight for wholesale orders. Veterinary HDPE bottles, like many models of Grab-N-Go jugs, can take the day to day rough treatment that comes with handling large animals, and can be fitted with pumps for quick dispensing.
Pet Care And Veterinary Bottles Are Environmentally Friendly
Veterinary bottles and tubes made from PET, HDPE, and MDPE plastics are widely recyclable. Your product packaged in pet care and veterinary bottles helps keep a low-carbon footprint, while offering flexible, shatter-resistant containers.
Quality Packaging And On-time Delivery
At Berlin Packaging, the Quality Service Division has extensive knowledge of system appraisal and application. This means consistent, high-quality goods with on-time delivery through world-wide suppliers. Take a look at what else Berlin has to offer.