The recent explosion in micro-brew and craft beer has created great demand for beer bottling supplies - and the market is flush with options. Whether you're brewing at home or brewing in quantity for your brew pub, it is important that you select the right beer bottle to suit your brew and your personal brand. There are a variety of options in beer bottling to fulfill your growing needs and delight your customers.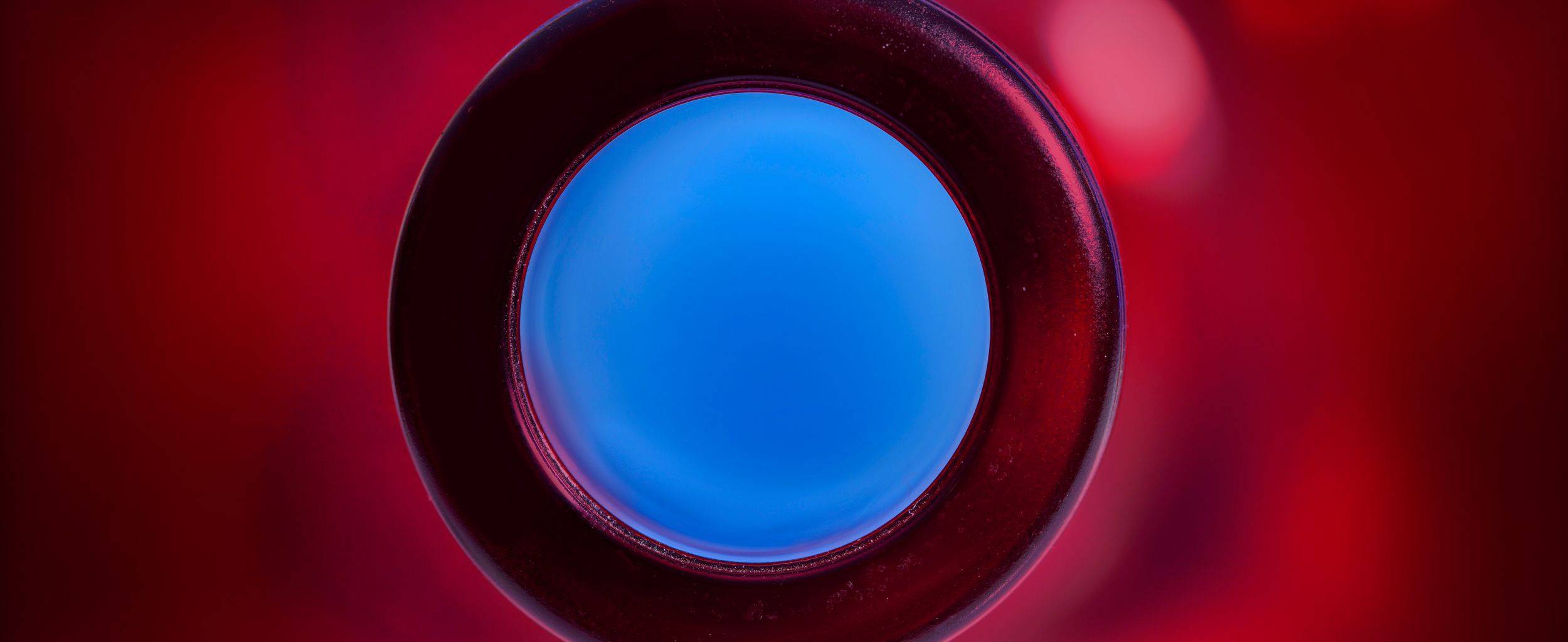 Choose Your Beer Bottle Size
Beer bottles come in a variety of sizes to quench any thirst. Before you decide on your bottle, you should determine the capacity of the bottle you wish to fill. The traditional standard longneck bottle holds 12 oz of beer. This is the most common size bottle you will find in six-packs in the beer cooler or craft beer bottle racks. Larger 22 oz bomber bottles are gaining popularity for today's growing selection of craft and specialty beers, ales and lagers. True beer lovers can even find individual style bottles as large as 40 oz - commonly referred to as a "Forty." Beer growlers are popular for housing multiple servings of draft beer in one oversized container. Common growler sizes include 32 oz (1 quart), 64 oz (half gallon) and 128 oz (1 gal).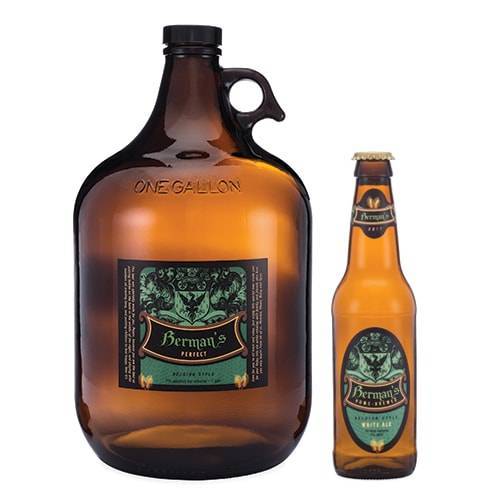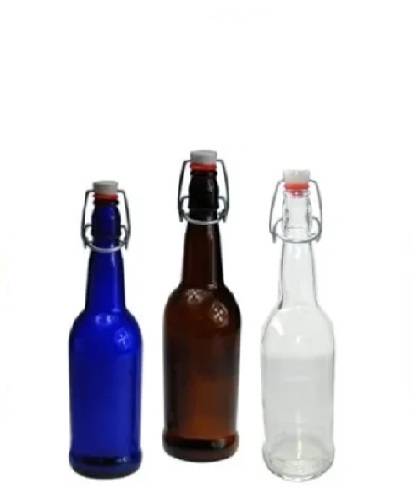 Choose Your Beer Bottle Color
You may notice that many beer bottles are sold in amber (brown) bottles. The color isn't simply an aesthetic choice; it also serves an important function. Most beer drinkers have experienced the disappointment of skunky or skunked beer. This unpleasant taste is caused when the beer becomes lightstruck, creating a chemical reaction that produces sulfur that negatively affects the taste of the brew housed inside. If you choose a clear or light colored bottle, keep in mind that your beer needs to be kept away from light sources to prevent spoilage. If your beer does not include hop extracts with isohumulones, the beer may avoid the risk of being light struck and can tolerate a clear container. If you're unsure if your product may be prone to UV sensitivity, err on the side of caution and choose an amber container.
Choose Your Beer Bottle Shape
Longneck Beer Bottles
The longneck bottle is ubiquitous with beer. This tried and true container is an Industry Standard Bottle (ISB). In order for a beer to be considered a longneck bottle, it must conform to a specific capacity, height, weight, and diameter. In the United States, the industry standard for a longneck beer bottle is 12 oz (355 ml). A quality longneck bottle can be refilled and reused an average of 16 times. Longneck bottles can feature a pry-off or screw-top finish to accommodate different closures.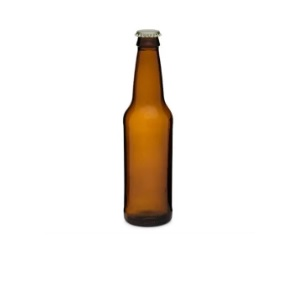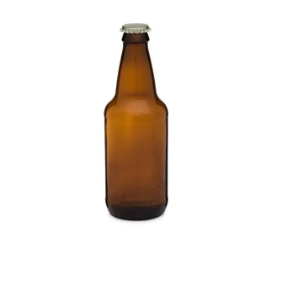 Heritage Beer Bottles
Don't mistake the popular heritage bottle for your traditional industry standard longneck bottle. Where the longneck features a slender body, the heritage bottle is stockier and more substantial to grip. The heritage beer bottle also has a shorter and wider neck than its longneck brother. This amber beer bottle resembles the familiar shape of the longneck, while offering unique styling to set your brew apart on the shelf.
Swing Top Beer Bottles
These glass bottles feature a swing-top cap (or lightning closure) that is constructed of heavy-duty, zinc-plated steel wire. The attached closures feature polyethylene plastic stoppers and food safe rubber. These stylish and ornate bottles are known by many names in the industry, you may recognize them as Fido Bottles or Kilner Bottles. Swing top bottles are as functional as they are beautiful. Bale wire bottles as beer containers were made popular by Grolsch Brewery, and connoisseurs of the brand even refer to them as Grolsch bottles. One of the top producers of wire bale bottles, Bormioli Rocco, crafts bottles in Italy. Bormioli Rocco swing top bottles are known for their superior clarity and finish.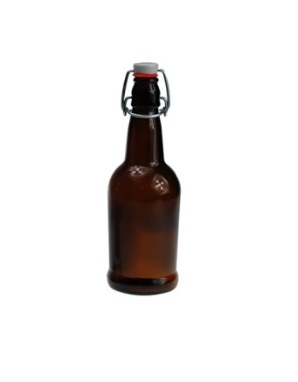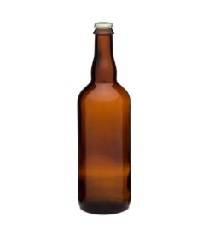 Specialty Beer Bottles
There are a variety of specialty bottles available on the market today – making something for everyone. Stubby bottles are short and stout without the longneck styling. Belgian style bottles are frequently used to house Belgian ales and have a shape similar to a champagne bottle.
Beer Growlers
The term growler has been around since the 1800s as a means to carry beer home from the local pub to enjoy at home. Thankfully, the days of hauling beer in an open top pail are gone and the modern day growler has taken its place. It seems that what's old is new again with modern day growlers popping up in breweries around the world so that customers can take home larger quantities of draft brew, and home brewers are cleaning out their kegs to make room for their next creation. Characterized by the jug-like shape, growlers range in size from 1 quart to 1 gallon. Traditional growlers are made with amber glass and include a finger loop, making carrying easy. Growlers are available in clear and amber colors.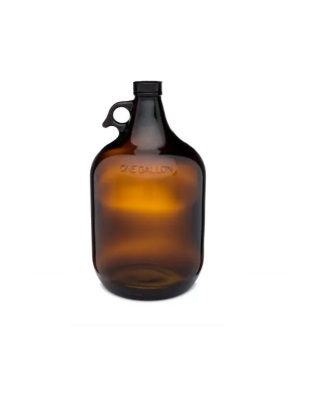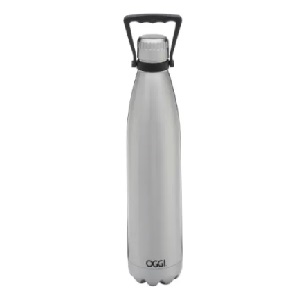 Stainless Steel Beer Growlers
Stainless steel growlers are an emerging trend in home brewers and microbreweries. This modern day innovation to a classic container preserves your beer and even keeps it chilled when transported. When selecting a stainless steel growler, quality is key to preserving your beer. A high quality stainless steel growler should include a bottle liner and double wall vacuum insulated body to help reduce condensation and keep beverages cooler for longer.
Choose Your Beer Bottle Closure
Metal Beer Caps
The type of bottle you choose will determine the type of closure you select. Be sure to match your closure to your specific bottle and neck finish. The most common cap for individual beer bottles is the Crown Beer Bottle Cap. These PVC lined caps come in universal sizes to fit industry standard bottles. Crown Beer Bottle caps are available as pry-off or twist-off. Pry-off caps require a bottle opener to remove the cap, twist-off caps can be easily removed by twisting the cap with your hand.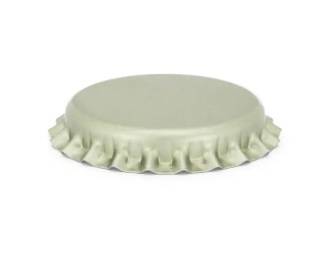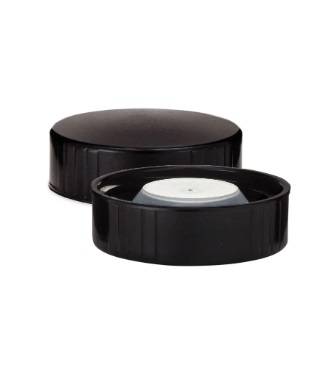 Screw-Top Growler Caps
Growlers generally have screw-top finishes that allow you to pair them with a cap that fits the neck of your container. Phenolic caps with a polycone liner have proven to be a good cap and liner combination providing a good seal for beer. These caps also stand up to repeated removal and replacement, which is crucial for growlers. Before bottling large batches, however, it is always recommended to test your bottle and cap with your product to ensure proper performance and reduce spoilage.