FDA and Tamper Evidency
Extra care is required by the Food and Drug Administration when selecting packaging. Berlin Packaging has a wealth of experience in supplying packaging made from FDA-approved materials. Our experience extends to tamper-evident packaging – like induction seals and shrink sleeves – that is so important to consumers.
The Food Market is Delicious
Over $300 billion of food is sold in the United States each year. There are mega brands and niche players, complex retail dynamics, and fickle consumers. Studies show as much as 70% of purchase decisions happen at the shelf, and consumers spend less than 5 seconds choosing brands to put in their carts. This means effective packaging is essential to growing sales in the food industry.
We Have You Covered
Berlin Packaging has significant experience providing packaging solutions to food manufacturers and brand owners to help them succeed in the marketplace.
No matter your size, positioning, or packaging needs – we provide turnkey service; we bring you anything and everything from concept to commercialization, and we do it on-time and within budget.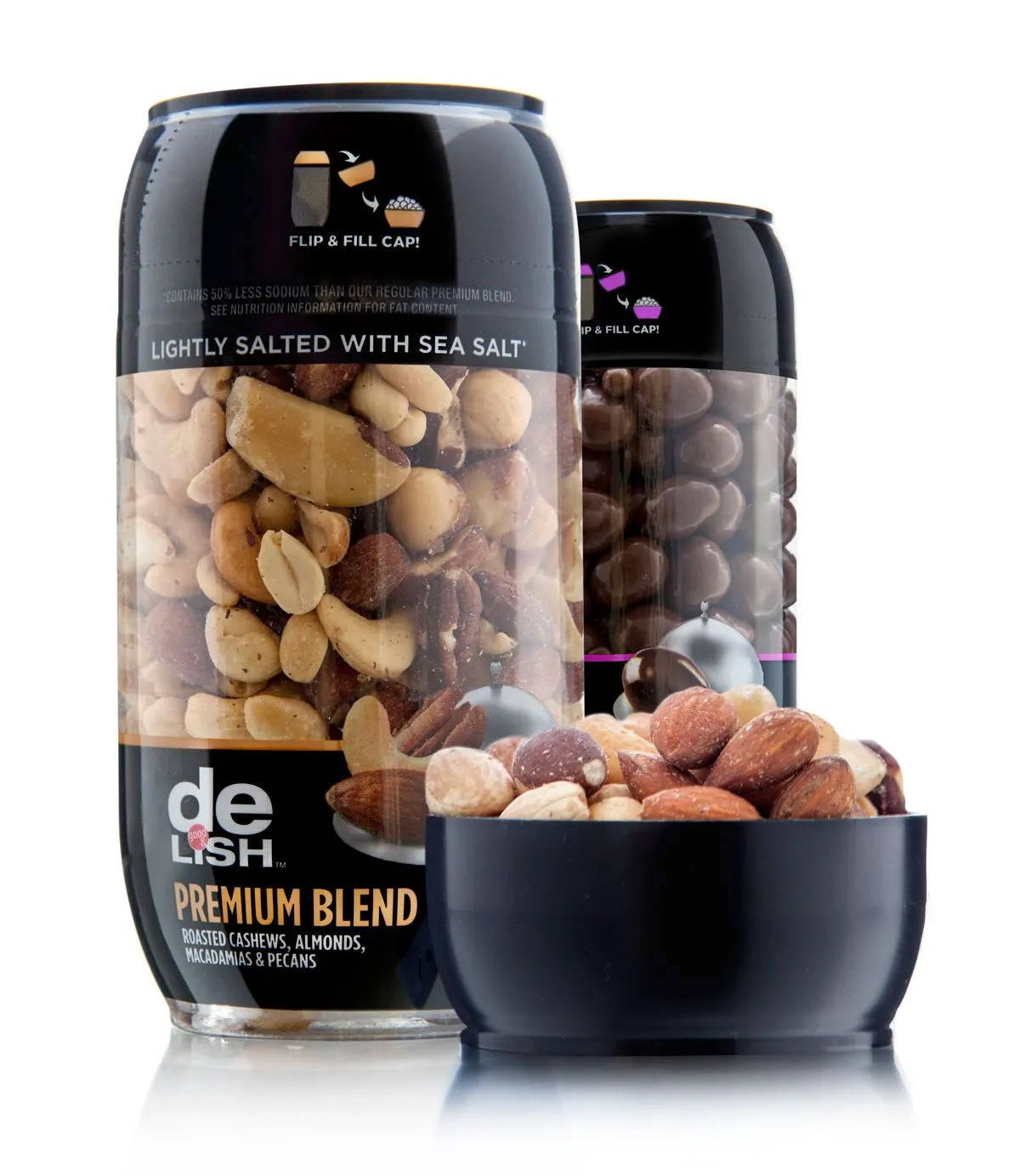 Walgreens Good & Delish Nuts
Having launched successful programs for their private-label brands Nice and Ology, Walgreens has been taking the private-label arena by storm. Their Good & Delish-branded line of private-label snacks is another key line for Walgreens. In order to deliver a premium experience in keeping with the superior quality of their product, Walgreens needed a truly unique package, so they engaged Studio One Eleven for help.
The Studio led the charge by reviewing trend data for the snack category. They found that typical nuts and seeds retail packages (mostly pouches and form-fill-seal bags) are used in multi-session applications, but do little to facilitate this. These insights led the team to focus on making a new package that is more conducive to snacking anywhere – not just in the kitchen or living room, but in the car as well.
From food jars to beverage bottles to plastic containers, Berlin offers FDA-approved or food-grade packaging manufactured to keep food fresh, secure, and easy to use, both at home and on the go.
Food Containers Come in Many Shapes And Sizes
Translucent PP or clear PET plastic spice jars are available with a range of caps to suit fine powder or chopped herbs, and range in capacities from table size to bulk. Package ice cream in buckets, or dips and margarine in smaller tubs with snap-lock lids. Shop glass and plastic jars and bottles in a range of contoured, square, and round profiles for beverages, coffee beans, and condiments. Match them up with threaded screw tops or dispenser caps. A wide choice of metal containers is also available, including tins for candy and cookies, cans for soups and gravies, and large drums for bulk products like syrup or juices.
What Types of Materials Are Used For Food Containers?
Popular materials for packaging include plastics like HDPE, acrylic, and PP. Because of their durability and lightweight when shipping, wholesale food containers in plastic are cost-effective. A wide variety of glass food containers offers aesthetic choices like decanters, mugs, jam and Mason jars, and bale wire jars with vacuum seals. Glass is inert, environmentally friendly, and easily and widely recycled, making glass containers a popular choice. Tin-plated steel cans are used regularly for packing cooked food items like vegetables and stews, as they offer a sealed product with long shelf life. Square and round tins are a solid choice for baked goods and candies and can be ordered plain or seasonally decorated.
Space to Order Wholesale
Berlin Packaging can assist with warehousing and inventory needs. With substantial international warehouse space, Berlin helps keep your products safe and on hand when needed.