Homebound Consumers Refresh Sales

of Air Freshener and Candle Products
To enhance their surroundings and create a pleasant atmosphere, homebound U.S. consumers bought more air freshener and candle products in 2020, resulting in a 7% increase in sales to $5.75 billion, according to market researcher
Euromonitor International
. In comparison, the annual growth rate for the air freshener market inched up about 1–3% from 2015 to 2019.
Sales of
candle air fresheners
leaped 13% to $2.09 billion in 2020, reports Euromonitor. Spray/aerosol air fresheners also saw strong gains with sales jumping 12% to $837 million. Electric air freshener sales increased 3% to $1.77 billion while car air freshener sales grew 1.8% to $678 million. Liquid and gel air fresheners experienced negative growth in 2020.
Leading companies in the air freshener and candle category include Newell Brands (20% market share), L Brands (18.7%), SC Johnson (16.8%), Proctor & Gamble (15%) and Reckitt Benckiser (11.4%), notes Euromonitor. Yankee Candle (Newell Brands) is the top brand with a 20% market share, followed by Bath & Body Works (L Brands) at 18.7%, Glade (SC Johnson) at 16.8%, Febreze (P&G) at 15.3% and Air Wick (Reckitt Benckiser) at 10.4%.
Although challenged by the COVID-19 pandemic, several air freshener brands made news in 2020.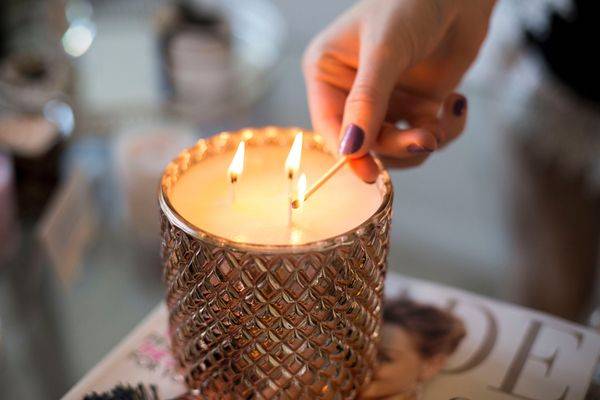 Newsmakers
Brands like Yankee Candle and Bath & Body Works had to shutter their brick-and-mortar stores at the start of the pandemic and others were hurt by the closure of non-essential retailers that carried their products. But other retailers such as grocery, mass merchandisers and warehouse clubs picked up the slack and grabbed market share.
E-commerce
was another channel winner with its share increasing from 4.8% in 2019 to 6.7% in 2020. Last summer,
Yankee Candle
partnered with Ordergroove to expand its online shopping presence and offer a subscription program with discounts, personalized product curations and rewards. From March to August, Yankee Candle magnified its recurring revenue 343%.
Earlier this year, Yankee Candle* unveiled 10 new fragrances in tumbler candles with hand-illustrated labels showing the fragrance notes within each scent. Many of the soy-wax blend fragrances like Bayside Cedar, Ocean Air, Amber & Sandalwood, Praline & Birch and Tropical Breeze are designed to transport the user to an exotic location or outdoor experience. The container's brushed tin lid doubles as a candle coaster.
Euromonitor reports that consumers have a growing preference for fragrances that are more natural or nature-inspired. Last year,
Air Wick
introduced a line of air fragrance products made with exotic, natural ingredients under the Botanica brand. Products include scented oils in a plug-in format and room sprays with 95% natural ingredients. In addition to its responsibly sourced formulation, the brand touts its minimal packaging to ensure recyclability and five unique scent pairings—Fresh Pineapple and Tunisian Rosemary, Caribbean Sweetgrass and Sandalwood, Himalayan Magnolia and Vanilla, French Lavender and Honey Blossom and Island Rose and African Geranium.
Smarter Scenting
The air freshener and candle market in the U.S. is expected to achieve a compound annual growth rate of about 3% over the next four years, reports Euromonitor. Consumers' penchant for health and wellbeing may bolster alternative air care products, such as electric diffusers and air purifiers or humidifiers that use essential oil diffusers. Many of these alternative products are available online but some have gained shelf space at fashion retailers and home and garden centers, notes Euromonitor.
Technology may disrupt the air fragrance market. In February 2021, two major brands—Febreze and Glade—launched plug-ins with smart technology. The Fade Defy plug-in from
Febreze
employs a microchip to manage temperature and control how much scent is released based on the user's selected scent intensity level. In addition, the device features a dual-wick system that automatically switches between two slightly different, complementary scents every 45 minutes. This ensures that consumers don't become accustomed or "noseblind" to the scent. It also prevents the wick from becoming clogged. A blue LED illuminates when the plug-in runs out of oil and needs to be refilled.
Designed to reduce waste and save energy, the Scented Oil Plus plug-in from
Glade
can be programmed to operate daily for 16 hours and rest for 8 hours at night when folks are asleep. Smart light technology alerts the user when the device is on, in rest mode, or needs a refill. The plug-in automatically turns off when it's empty.
*The brands mentioned in this article are trademarks of their respective owners. Inclusion of these brands in this article is not meant to imply an association with or endorsement from the respective trademark owners.