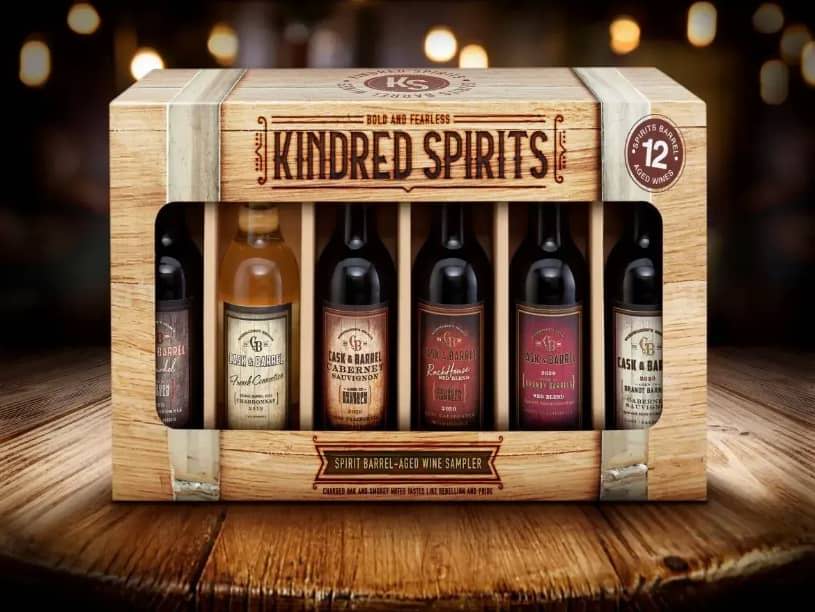 American Vintners' success with Christmas and Valentine's Day sampler wine collections led the company to offer a summertime seasonal collection, according to an article in Packaging Technology Today magazine. To help turn their concept into a marketable product, the winery called upon Berlin Packaging's Studio One Eleven in-house agency to design the packaging.
The design team began by ideating a range of themes and developed the name "Kindred Spirits," a nod to the vintner's Cask & Barrel brand of wines that are aged in bourbon, cognac, or brandy barrels. For the sampler box carton, the design team created packaging graphics that feature wood barrel details, earth tones, and bold fonts. In addition, Berlin Packaging sourced 187-ml glass bottles with a screw-top closure for easy opening and resealing.
The result is a stunning wine sampler box with a die-cut window to showcase the six bottled wine varietals — two cabernet sauvignons, two red blends, chardonnay, and zinfandel.
Explore more innovative package designs in the Spirits, Wine and Beer category from Studio One Eleven.