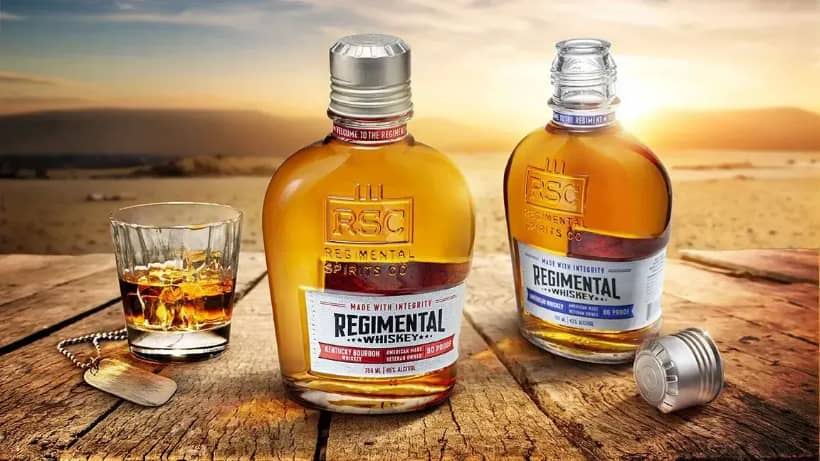 With its canteen-shaped glass bottle that "feels just right in the hand of a soldier, sailor, airman, or marine," Regimental Whiskey pays tribute to all branches of the military, reports an article in Packaging World magazine.
Regimental Spirits Company was founded by two military veterans—Eric DiNoto and Kyle Moore—who hatched the idea for the military-themed whiskey on a rooftop in Baghdad, Iraq, in 2007. The co-founders worked with Berlin Packaging's Studio One Eleven design agency to turn their vision into a reality.
According to Keenan Marr, senior industrial designer for Studio One Eleven, designing a spirits bottle that pays homage to the canteen was "a tricky wire to walk." Marr says, "We knew it would require careful design consideration to create something that was recognizable as a canteen without being gimmicky. After some discussions with the customer and refinements, we eventually arrived at a more direct canteen architecture with some spirits bottle elements, like an inset label area and branded embossments. To stand out from the competition, we created a custom aluminum cap and neck finish, the form of which is a direct representation of the very unique spout on actual canteens."
The result is a canteen-inspired 750-mL glass bottle, which is used for two whiskey varieties—American and Kentucky Bourbon. The embossed logo comprises a rectangular-shaped icon that Regimental Spirits says is a standard graphic display on military maps.
Another feature of the bottle is a notched insert, which hosts the wraparound label and enables a better grip on the bottle for on-premise sales. In addition, the bottle spout was engineered to hold a standard bartenders' liquor pourer for measured pours.
Explore more innovative package designs in the Spirits, Wine and Beer category from Studio One Eleven.