Cosmetic Industry Packaging Trends
A look at the trends influencing cosmetic package design and innovation.


The global cosmetics sector is set to exceed USD $58 billion in 2022, with 5.2% growth expected in 2023. While recovery from the pandemic was slower than other personal care categories, the cosmetics sector will see steady growth through 2026 as consumers leave the house more regularly and start wearing makeup again. Amid rising inflation and economic uncertainty, consumers are becoming more price-conscious. Developing products and packaging that address consumer needs and preferences can lead to success.

Consumers are looking for brand transparency, clean ingredients, simplicity, and socially and environmentally responsible solutions.


Eco-Friendly
Today's consumers are very aware of packaging's impact on the environment. They are willing to change their behaviors to be more environmentally friendly, prioritizing sustainable packaging when purchasing products. Consumers expect companies to do their part to make a difference, and businesses have realized that sustainability and profitability go together, with eco-friendly initiatives attracting new consumers and driving brand loyalty.
Berlin Packaging has many sustainable packaging solutions to help cosmetic brands show their commitment to the environment, including plastic alternatives, refill & reuse models, and fully recyclable components. Our Re-Wood accessories collection uses less plastic and no glue for reduced environmental impact. The pieces easily separate for proper disposal and recycling. Our Airglass, Airglass Slim, and Miracle Jar refill systems include premium, reusable containers with disposable refills, reducing packaging waste.
The vast majority of consumers say that sustainable packaging attributes are important to them (GlobalData). Top features include:
Easy to recycle, 78%
Sustainable/made from renewable resources, 68% of consumers
Refillable/Reusable, 65%
Plastic-free packaging, 64%
Designed for All
Beyond sustainability, consumers want to support companies and brands that are socially responsible. Demonstrating a commitment to diversity, inclusivity, and accessibility is becoming increasingly meaningful. Accessible and inclusive design is gaining traction as companies focus on addressing the needs of all consumers. Packaging that is accessible to everyone - regardless of age, disability, or physical limitations - can feature a variety of functional attributes. This includes lids and seals that are easier to open and close, ergonomic forms that allow for optimized handling and dispensing, braille markings and larger fonts for those with visual impairments, and intuitive design that is easy for everyone to understand and use. Incorporating inclusive packaging demonstrates a brand's commitment to social responsibility and can drive trial and brand loyalty.
Custom design features can help simplify the user experience and differentiate from the competition.
Less Is More
There's a growing trend toward minimal, understated brand design across personal care categories, including cosmetics. This is partly due to the "clean beauty" and "skinimalism" movements, with consumers wanting simple, honest ingredients presented in a clear and straightforward manner. A 2021 GlobalData consumer survey found that 78% of global consumers find simple/short ingredient lists on packaging very/somewhat appealing. A cleaner label can suggest a cleaner product.
This beauty packaging trend also reflects an overall desire for simplification in our everyday lives. Consumers are going back to the basics, seeking familiar, natural ingredients and streamlining their beauty routines and products. They want products that are easy to use and save time. Package design can help simplify the user experience. Simple doesn't mean plain.
Minimal design often feels more premium, especially when paired with high-quality materials and finishes like soft touch, varnishes, and metallics.
Nothing to Hide
Today's consumers are interested in knowing as much as possible about the brands they're buying. On-pack communication about a product's origins, attributes, and formulation is becoming increasingly important to educate and empower consumers to make purchase decisions they can feel good about. Scrutiny over ingredients and production processes for skincare products is gaining importance and is expected to intensify. Claims such as 'organic,' 'cruelty-free,' and 'natural' are becoming key attributes.
Beyond messaging, transparent packaging or die-cuts that allow consumers to see the product inside can be reassuring and suggest safe and high quality. When it comes to cosmetics, transparency provides the practical benefit of being able to see the actual product color. Berlin Packaging's Makeup in Glass is a collection of premium glass bottles that can be combined with multiple closures and accessories for a variety of makeup applications. They are made with thick, high-quality, extra-flint glass suitable for both mass and luxury markets. The bottles have a special screw neck designed to accommodate a range of applicators in different shapes and sizes for face, lips, eyes, eyebrows, and more.
54% of North Americans say they pay a high amount of attention to the ingredients in the products they buy.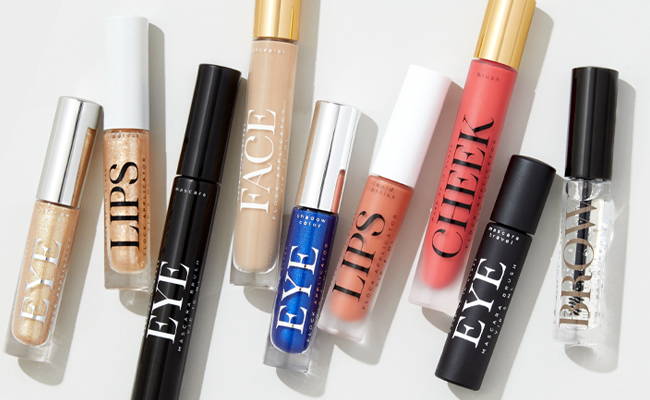 The brands mentioned in this report are trademarks of their respective owners.
Inclusion of these brands in this report is not meant to imply an association with or endorsement from the respective trademark owners.