Packaging World – Special Ops-Tested Laundry Detergent Tub Exudes Masculinity
Home cleaning products company targeting the specific needs of men selects a rugged container with military-inspired graphics on an in-mold label to introduce its laundry detergent pacs. By Anne Marie Mohan, Senior Editor, Packaging World
For its high-performance laundry detergent tested at a Delta Force training facility, Hero Clean picked packaging equally as rugged when launching its single-dose laundry pacs. Hero Clean was founded to deliver home cleaning products "specifically formulated and fragranced for guys' gear and homes."
According to the company, single men make up 47% of the adult male population in the U.S. "Guys have their own deodorants, shampoos, razors, even diet colas—but for cleaning their gear and homes? Nothing. It seems that the major cleaning products companies feel that what is good enough for our mothers' stuff, is just fine for ours. Seems a little retro to us," says the company.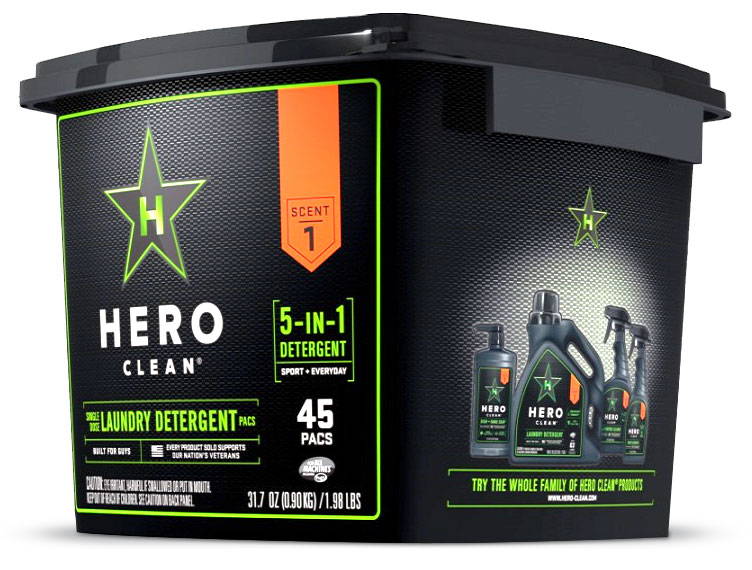 The products, including a liquid laundry detergent, all-purpose cleaner, dish and hand soap, and odor eliminator, in addition to the laundry detergent pacs, promise to eliminate the worst-of-the-worst odors, remove just about any type of stain, and bring a new manly scent of juniper to the marketplace.
In early 2018, Hero Clean's line of products underwent a package redesign, with graphics the main focus. A handled laundry detergent bottle, spray bottle, and pump bottle in charcoal grey feature a label with a military-inspired carbon fiber-style background pattern. The Hero Clean logo—a star bearing the letter "H"—outlined in neon green along with an orange, chevron-like graphic element further add to the military tone.
In terms of packaging structure, due to the increase in e-commerce sales, ratchet neck finishes were added to the bottles and sprayers to eliminate the risk of leakage.
Five months before the scheduled launch of the new packaging, one of Hero Clean's largest retailers asked to have a laundry pac option added to the line, prompting the company to quickly come up with a new product format and package.
Says Mike Eaton, CEO and Founder of Hero Clean, "We were scrambling to find a solution that would match our brand look and vibe. After asking just about everyone, we were put in contact with Berlin Packaging by our contract manufacturer and were introduced to the 64-ounce container that we ended up using. Everyone moved really fast to source, price, design, and manufacture the packaging to get everything ready for the launch—by the skin of our teeth."
The 64-oz stock square polypropylene container with tamper-evident lid chosen by Berlin holds 31.7 oz of pods and is supplied by IPL. To align with Hero Clean's redesigned packaging, the rugged container is charcoal grey and uses the same label graphics, providing brand consistency. For the tub, Berlin selected a full-wrap in-mold label made of PP; the lid is also decorated with IML.
"IML offered many advantages for this cleaning application," says Berlin Senior Account Executive Rob Fredrichsdorf. "IML is more durable than pressure-sensitive labels for harsh environments and is chemical-resistant. Secondly, IML is cost-effective, as it eliminates the secondary labeling operations and the need to stock labels. Lastly and most importantly, the superior graphics, number of colors, and label coverage of the container and lid was the driving force to use IML. The ability to get the detailed carbon-fiber look was critical." Having a PP label on a PP container also results in recyclability.