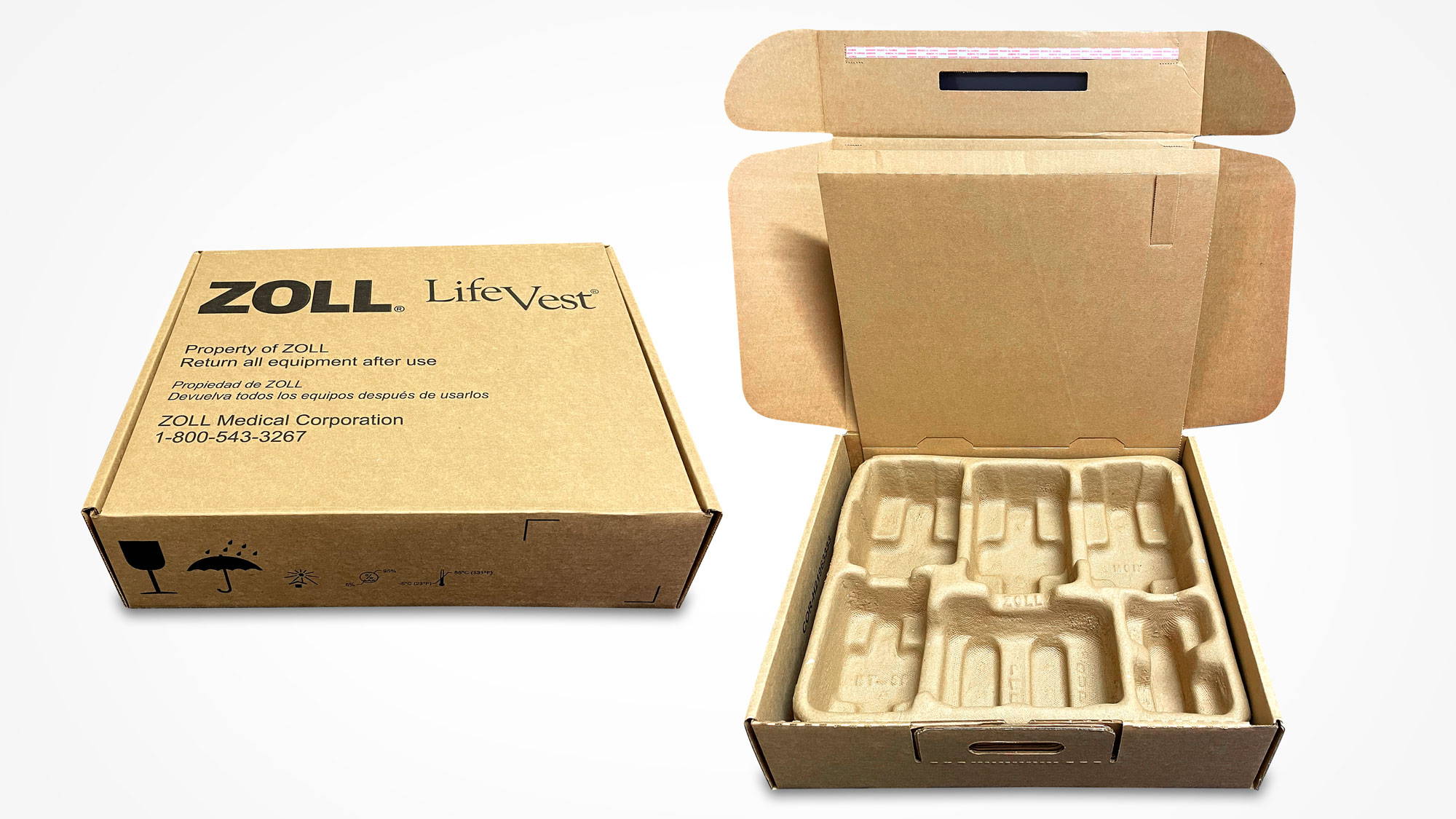 When Berlin Packaging's Dangerous Goods (DG) division held a symposium in Pittsburgh, Pa., Zoll Medical Corporation attended to learn more about our services and capabilities. Zoll sells LifeVest, a wearable cardioverter defibrillator designed to protect patients at risk of sudden cardiac death. At the time, the product was packaged in a cardboard box with a polyurethane foam insert that was expensive and viewed unfavorably due to sustainability concerns. DG helps many customers in the industrial chemicals market transition their packaging inserts from expanded polystyrene (EPS) foam to molded pulp, and Zoll was interested in doing something similar for their defibrillator.
Berlin Packaging partnered with a molded pulp manufacturer to develop a custom design for the LifeVest packaging insert made with 100% post-industrial resin pulp, eliminating the use of polyurethane foam. We double coated the pulp to reduce dust, improve aesthetics, and ensure a positive user experience. The insert works with the existing outer carton for simplified logistics and cost-savings. Berlin Packaging now supplies all the package components and assembles everything in our Pittsburgh facility. In addition to our sustainability expertise and supply chain proficiency, Zoll appreciated our extensive quality control services. We review all incoming materials, conduct inspections during the assembly process, and perform drop-testing post-production. These measures ensure the protection and integrity of this life-saving device.
Berlin Packaging's lifecycle analysis (LCA) demonstrates that the new eco-friendlier package reduces greenhouse gas emissions by up to 30%, cuts fossil fuel use by up to 40%, and reduces water use by upwards of 70%. The annual impact is equivalent to removing 30 cars from the road, saving 170 acres of forest, and eliminating the daily showers of almost 6,000 people. Zoll LifeVest is one of the first medical device products to introduce this type of foam-free packaging, hopefully driving change toward more sustainable packaging solutions in this industry.
If you're looking for sustainable packaging solutions for your business, please request a packaging consultation today.