Hygiene-Conscious Consumers Wipe Down More Surfaces
To keep their homes free of germs during the COVID-19 pandemic, consumers bought more surface care products to disinfect countertops, sinks, desks, shopping carts, door handles and other frequently touched surfaces. As a result, sales of surface care products jumped 28% to $7.68 billion in the U.S. in 2020, according to market researcher Euromonitor International.
Leading companies include Clorox (22% market share), Reckitt Benckiser (18%), Procter & Gamble (13%), SC Johnson (9%) and Colgate-Palmolive (3%), reports Euromonitor. Lysol (Reckitt Benckiser) is the top brand with a market share of 17%, followed by Clorox at 14%, Swiffer (P&G) at 10%, Windex (SC Johnson) at 4% and Mr. Clean (P&G) at 3%.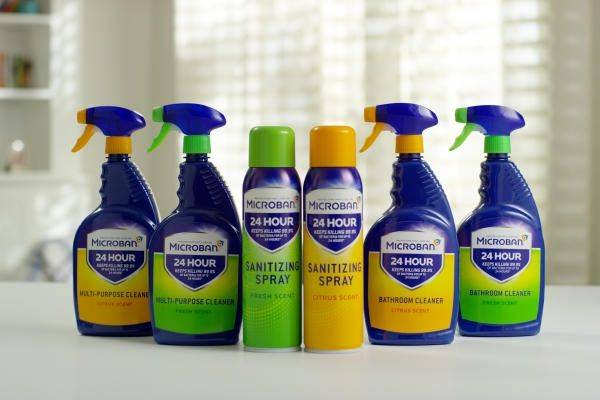 Disinfectant Demand
The biggest winners in the surface care category include home care disinfectants—up 81% to $1.5 billion, multi-purpose cleaners—up 26% to $2.35 billion and home care wipes and flooring systems—up 24% to $2.37 billion, notes Euromonitor. At the beginning of the pandemic, consumers stockpiled surface cleaning products—especially those with antibacterial and antivirus claims. However, surface care remained strong in the second half of the year as consumers maintained their stepped up cleaning regimens.
One beneficiary of the sales surge in disinfectants was Microban 24*—a line of multi-purpose and bathroom cleaners in spray bottles and sanitizing spray in an aerosol can that kills 99.9% of bacteria on hard surfaces for up to 24 hours after application. Launched by Procter & Gamble one month before the March stay-at-home orders, the P&G brand was expected to achieve $200 million in sales in 2020.
Wipeout
The COVID-19 pandemic boosted the demand for wipes as consumers looked for convenient ways to sanitize and disinfect a variety of surfaces in their homes as well as public places. Large plastic canisters meet the need for stockpiling and offer costs savings per wipe, while smaller packages (e.g., flexible packs and mini canisters) can fit in car cupholders, backpacks or handbags for on-the-go applications.
Due to huge demand spikes for wipes, the category leaders—Clorox and Reckitt Benckiser—reduced production capacity of less popular wipes brands and products to focus on making more disinfecting wipes. This unprecedented demand also presented opportunities for many smaller players. For example, CleanWell ramped up production of its Botanical Disinfecting Wipes and expanded its distribution through new retail partners and Amazon. The product contains natural thymol, which is extracted from plants and can kill 99.9% of household germs and viruses.
Last summer, CR Brands partnered with Church & Dwight to launch Arm & Hammer Essentials Disinfecting Wipes. Packed in a tall rectangular plastic container, the citric acid-based product kills 99.9% of viruses and bacteria.
Due to their popularity and ease of use, some wipes have been tailored for specific applications. For example, SC Johnson markets Bathroom Flushable Wipes under the Scrubbing Bubbles brand that can be disposed in the toilet. Under its Windex brand, SC Johnson offers Electronic Wipes for cleaning TV screens, computer monitors and smart phones. Procter & Gamble peddles Tide To Go Wipes for removing food and drink stains from clothing.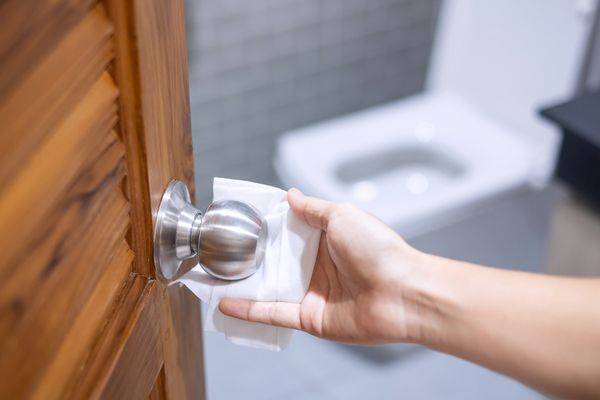 What's Ahead?
Surface care product sales are expected to post about a 3% CAGR over the next five years to reach $8.76 billion by 2025, forecasts Euromonitor. The COVID-19 pandemic prompted consumers to clean more frequently and choose products with disinfecting properties. Those new habits should have staying power as a defense against germs.
Consumers like the convenience of multi-purpose surface cleaners because they can tackle many applications from dirt and spills to grease and mildew. But consumer expectations have changed during the pandemic. They are now looking for multi-purpose products that go beyond cleaning to disinfect and kill bacteria and viruses. Examples of these types of products include Clorox's Scentiva Disinfecting Multi-Surface Cleaner and Method's Antibac All-Purpose Cleaner.
*The brands mentioned in this article are trademarks of their respective owners. Inclusion of these brands in this article is not meant to imply an association with or endorsement from the respective trademark owners.