What's Hanging on the Clothesline? New Cycles for Laundry Care Products
With more Americans working remotely and doing other activities like exercising in the home last year, they had more opportunities to change their clothes and time to throw more dirty loads in their washing machines. Consequently, following a five-year average annual growth of 2.3%, laundry care product sales in the U.S. rose 6% in 2020 to $14.31 billion, according to market researcher
Euromonitor International
.
Laundry detergent led the category last year with sales of $9.23 billion, followed by fabric softeners at $2.58 billion, laundry aids at $2.21 billion, and carpet cleaners at $281 million, reports Euromonitor. Leading companies include P&G (57% market share), Church & Dwight (12%), Sun Products/Henkel (8%), Dial/Henkel (8%) and Colgate-Palmolive (3%). Tide (P&G) is the top brand with a market share of 27%, followed by Gain (P&G) at 14%, Downy (P&G) at 10%, Arm & Hammer (Church & Dwight) at 7% and All (Henkel) at 4%.
Let's explore some of the trends like e-commerce and product innovation that are driving growth in laundry care products.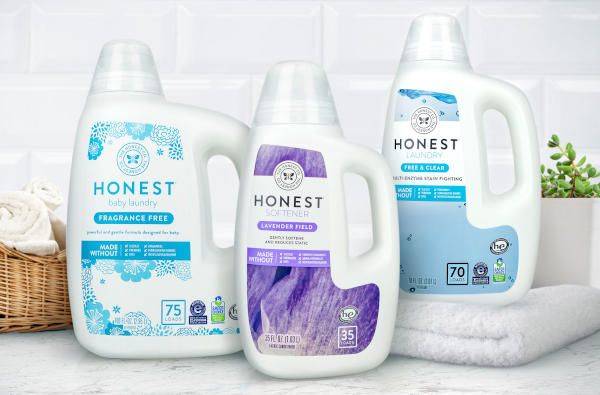 E-Commerce Gains
While many retail stores lost market share last year, the e-commerce sales channel grew from 4.6% in 2019 to 6.4% in 2020, notes Euromonitor. To make inroads into the U.S. laundry market,
Reckitt Benckiser
(RB) launched an Amazon-only fabric care brand Botanical Origin* last year. The plant-based line includes a laundry detergent with 67% bio-based ingredients and a fabric softener with 71% bio-based ingredients.
The products are packed in translucent amber plastic bottles—54 oz for the detergent and 32.46 oz for the softener. RB wants the products to be in 100% post-consumer recycled plastic by next year. Plans are in place to launch renewable packaging by 2025.
Last summer,
Blueland
introduced laundry detergent tablets in a reusable metal tin. The container holds 40 plastic-free tablets and sells for $18. A refill pouch contains 40 tablets and is priced at $14. Products are shipped standard ground, which is free for orders above $35.
To meet the demands of the accelerating e-commerce environment, the
Honest Company
partnered with Berlin Packaging's
Studio One Eleven inhouse design agency
to redesign its fabric care line. The updated bottles for laundry detergent and fabric softener features a custom-designed dosing cap closure that can survive impacts and drops. The inventive structure employs a thick liner to minimize the assembly gap. To overcome pouring problems, a custom spout has a longer cut-out that increases airflow to negate glugging and to provide controlled dispensing.
Product Innovation
Consumers expect their detergent to not only clean their clothes, but they also want their outfits to maintain their colors and just-bought appearance. That insight led
Henkel
to extend its All detergent brand in 2020. All Free Clear Clean & Care incorporates keratin and vitamin E in its formula to help smooth fibers, promote fiber elasticity and help clothes keep their shape. Another brand extension—All Free Clear Pure—is plant-based and contains 99% USDA-certified bio-based content. The packaging (88-oz bottle) for both products uses 25% or more post-consumer recycled content.
According to market research from
GlobalData
, more than 70% of U.S. consumers find essential oils in beauty/grooming products to be very or somewhat appealing. Last year,
P&G
rolled out Gain with Essential Oils—a concentrated laundry detergent in a 42-oz plastic bottle. The product comes in three scents—lavender & calm chamomile, eucalyptus & mindful mint and orange & energetic grapefruit.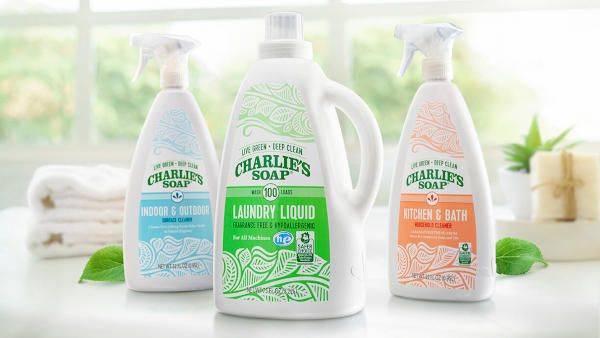 Final Spin
As more consumers return to their typical work environments away from home, home laundering is likely to become less frequent in 2021. Euromonitor predicts that laundry care product sales in the U.S. will increase about 3.8% in 2021. From 2022 to 2025, the laundry care market is expected to expand more than 3% annually.
While the large multinationals dominate the laundry care category, some smaller, niche and private label players saw gains in 2020. One example is
Charlie's Soap
, which makes natural, biodegradable and plant-based laundry detergent as well as other cleaning products. To take its product line nationwide in the U.S., the company enlisted the help of Berlin Packaging's Studio One Eleven inhouse design agency to create custom packaging and branding with broad appeal. The redesigned laundry bottle features an A-shaped design with a handle overhang while the label design stresses the brand's "Live Green, Deep Clean" positioning.
Going forward in the laundry care category, products conveying value, environmental stewardship, e-commerce readiness and/or special attributes like plant-based or soothing scents should garner the attention and pocketbooks of many consumers in the laundry detergent space—both in store and online.
*The brands mentioned in this article are trademarks of their respective owners. Inclusion of these brands in this article is not meant to imply an association with or endorsement from the respective trademark owners.