By: Berlin Packaging Specialist
Date: November 11, 2019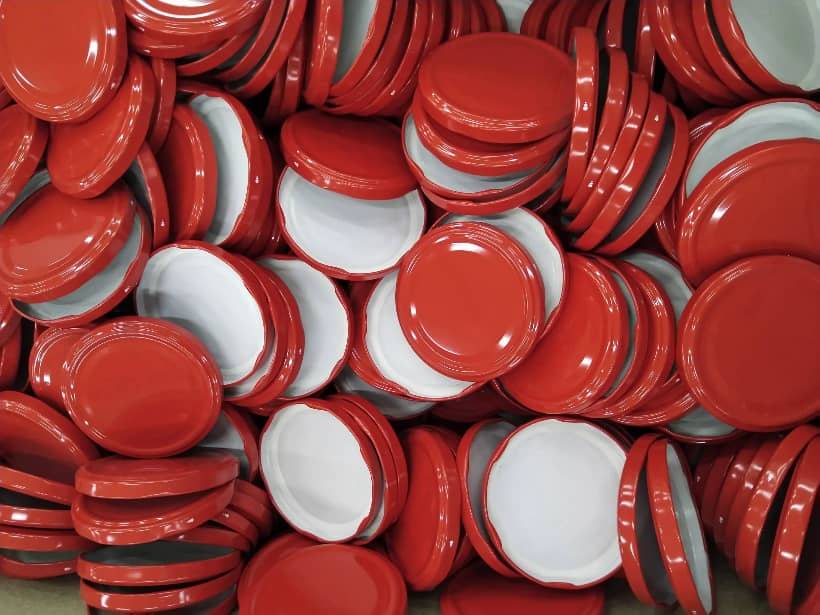 Types of Caps
Continuous thread finish is the most common closure. It has a continuous single spiral around the neck of the container. Lug finish consists of several tapered ridges designed to mate and require only a partial turn to seal the cap.

Closures have two measurements: diameter and finish (i.e. 38/400). The first number of the closure size refers to the inside closure diameter (or outside bottle neck finish diameter) in millimeters. The second number, which is designated by industry standards, specifies other details of the finish dimensions, such as the number of threads and consequently the height of the finish.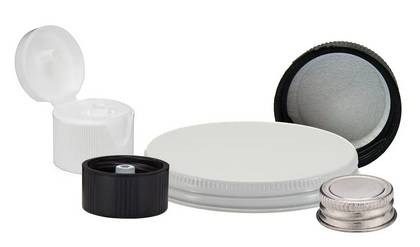 Barrier Liner (Ester Foil)
Foil liner creates a durable, chemical-resistant seal.
Suggested Product Uses: acetone, brine, acetic acid, alcohol (50%), benzene, carbon tetrachloride, cosmetic creams, industrial creams, chloroform, dilute bases, ether, ethyl acetate, floor cleaner, greases, hexane, hydrochloric acid (18%), lard, methyl ethyl ketone, naphtha, pomades, vegetable oils, sodium hydroxide (2%) and xylene.
Chemical Resistance is good against: hydrocarbons, oils, ketones and alcohols.
Not good with: acids or alkalis.
Foamed Pressure-Sensitive Liner (PS22)
Polystyrene foam inner seal coated with a torque activated pressure sensitive coating.

Available either plain or printed "Sealed For Your Protection"

Adheres to either glass or plastic. When cap is removed liner sticks to the container.
Suggested Product Uses: dry products, pharmaceuticals, nutraceuticles, candy, spices and syrup.
Not good with: oil or other liquids.
Foamed PE Liner (F217)
Three-ply co-extruded liner consisting of foamed and solid LDPE. Foam core is between two pieces of solid clear LDPE.
Protect from odor transmission and do not impact the taste of products.
Suggested Product Uses: water based adhesives, pharmaceuticals, cosmetics, lotions, ammonia (household), liquid antacids, auto cleaners, bleaching fluid, liquid detergent, honey, hydrogen peroxide, lemon juice, mouthwash, mustard, pickles, olives, salad dressing, shampoo, shoe polish, spices, starch, syrups and vinegar.
Chemical Resistance is good against: acids, alkalis, solvents, alcohols, oils, cosmetics and aqueous products.
Not good with: hydrocarbon solvents.
Induction/Heat Sealed Liner (HS035F)
Paper-backed aluminum foil coated with a clear heat sealable coating blend of high molecular weight ethylene and vinyl acetate copolymers laminated to polystyrene foam.
Adheres to PE, Glass, PET, PVC, PS and PP.
Suggested Product Uses: dry products, milk, peroxide, fruit juices, glass cleaner, spices and nutraceuticles.
Not good with: oil or solvents.
Polyethylene Cone Liner
Provide a seal between the top of the container and inside diameter.
Resists cracking from stress caused when the cap is applied to the container.
Suggested Product Uses: liquids.
Pulp & Oil Liner
Oil coating with a pulp backing.
Good resistance to chemicals that react negatively to polyethylene liners.
Suggested Product Uses: acidic foods, mineral oils and alcohols.
Pulp & Polyethylene Liner
Polyethylene coating with a pulp backing.
Works excellent with cold-fill, non acidic food products and powders.
Suggested Product Uses: cleaners, cosmetics, hair care, pharmaceuticals, acids, alkalis, alcohols, ketones and food supplements.
Not good with: essential oils or chlorinated hydrocarbons.
PTFE Faced Foam Liner
Provides excellent chemical resistance with the compressibility of PTFE and sealing properties of polyethylene foam.
Suggested Product Uses: analytical lab samples, high purity chemicals, strong acids, solvents, environmental samples, pharmaceuticals and diagnostic reagents.