By: Berlin Packaging Specialist
Date: October 20, 2019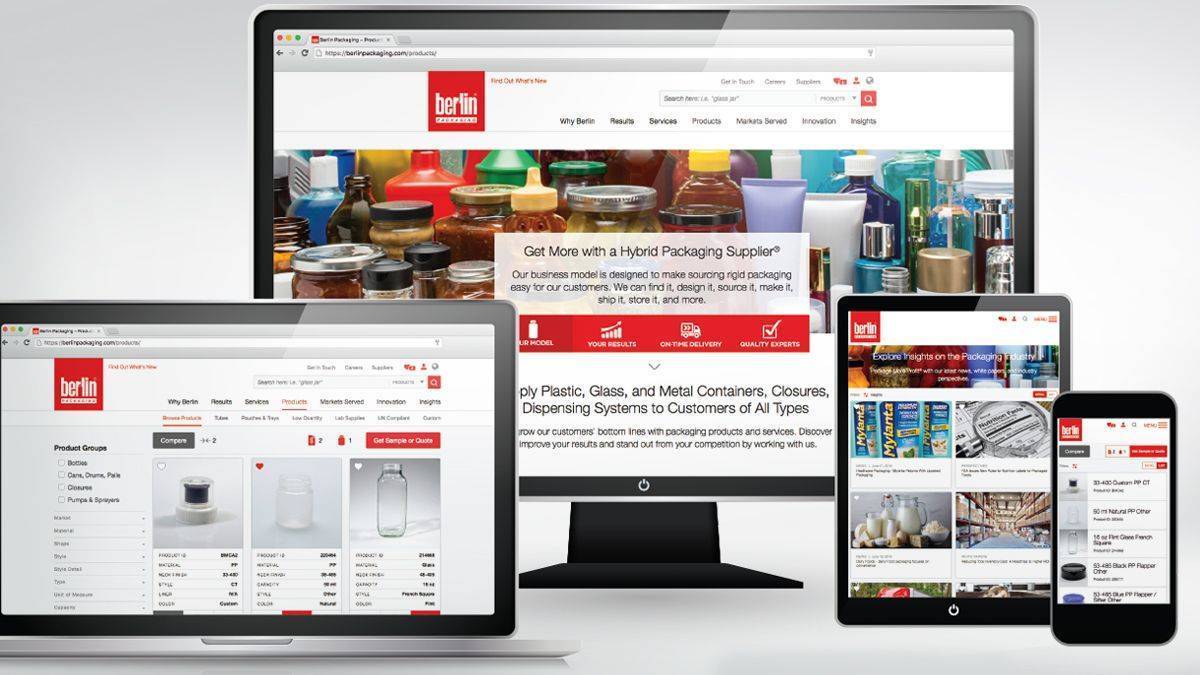 CHICAGO – (August 16, 2016) – Berlin Packaging, the leading full-service supplier of plastic, glass, and metal containers and closures, today announced its revamped, mobile-friendly corporate website, adding a host of new features for packaging buyers and other members of the packaging supply chain. Among the many upgrades, users now have the ability to research and compare packaging, save favorites, request quotes, learn about the latest solutions and practices, and enjoy resources designed to improve businesses through the power of packaging.
"Packaging has a huge impact on the success and profitability of products and brand owners. How consumers choose, experience, and engage with a product ties closely to that product's packaging," said Jeremy Lagomarsino, Executive Vice President, Business Development & Strategy at Berlin Packaging. "Our new BerlinPackaging.com website has been re-designed to help our customers get the most out of their packaging. And by making our site friendly for smartphones and portable devices, we are adapting our story for our customers' busy lives."
Boasting a cleaner look, Berlin Packaging's new site is organized for fast navigation. Users can browse products, research options, learn about the latest packaging ideas, and share items with colleagues. The site also makes it easy for users to save favorites to their profile for later reference, simply by clicking a heart icon at the top of every screen.
Visitors to BerlinPackaging.com will find a complete summary of Berlin Packaging's products and services, along with rich information to help companies be more successful. Through the site, users can:
Explore thousands of popular packaging products from Berlin's vast catalogue—ranging from bottles and closures to sprayers, cans, pails, and much more
Compare products, request samples, and request quotes
See packaging solutions and case studies in personal care, pharmaceuticals, food and beverage, wine, beer, spirits, home care, industrial chemicals, and other markets
Read examples of the quantifiable results and profits Berlin unlocks for its customers
Learn about Berlin's suite of service divisions, including the Studio One Eleven®; design division, which is a leader in structural design, graphic design, and branding for packaging customers
Discover Berlin Packaging's 99% on-time delivery record, a streak that has lasted 146 consecutive months and counting, and see how it helps lower costs and improve efficiencies for customers
Review white papers, case studies, and other materials helpful to improving packaging and overall business performance
Read testimonials from Berlin customers and see the independent data citing Berlin's superior customer engagement
Become acquainted with Berlin Packaging's unique business model designed to increase customer sales, reduce customer costs, and improve customer productivity
Berlin Packaging's site, presented in English and five other languages, offers information about its unique Greater, Faster® philosophy. This outlook is central to Berlin's success and is relevant to customers, suppliers, and current and prospective employees alike.
"We believe Berlin Packaging is a truly special place to work. Our employees enjoy a stimulating, creative culture that helps them reach their personal goals while helping customers thrive," noted Jim Sollenberger, Vice President of Human Resources at Berlin Packaging. "With our steady growth, we are always interested in meeting talented people for our current and future job openings. At our new website, interested candidates can read a summary of our corporate values, review our current openings, and learn about the many ways Berlin Packaging can provide an energizing and rewarding career."