By: Berlin Packaging Specialist
Date: October 20, 2019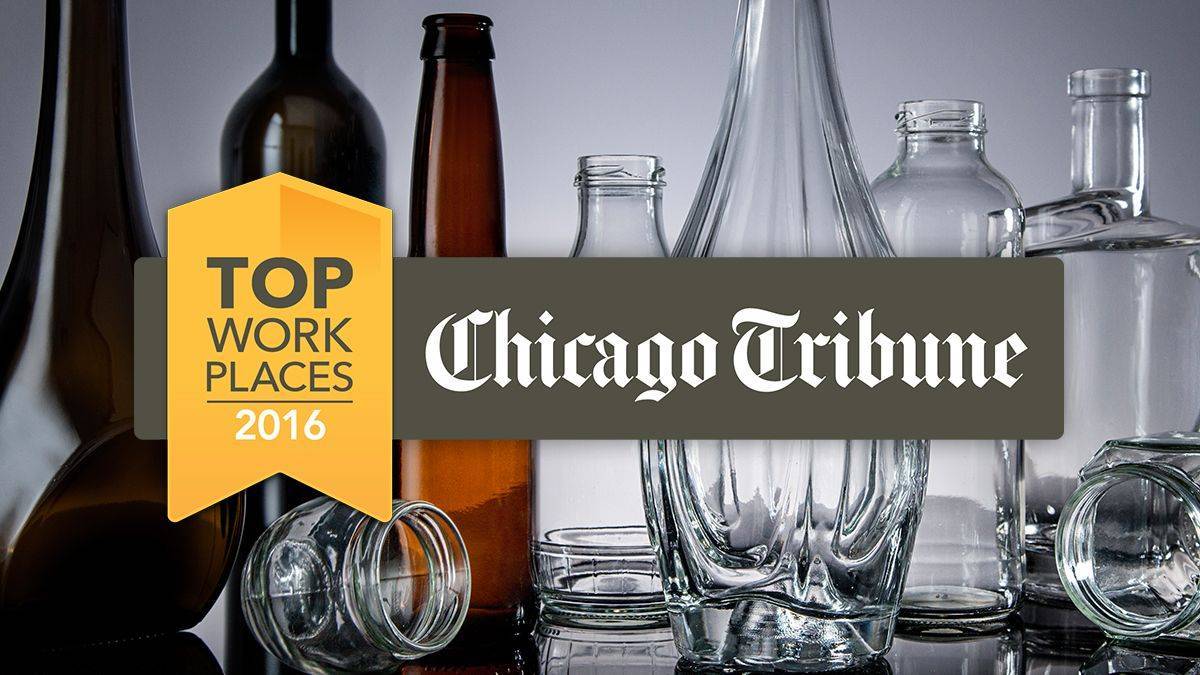 Berlin Packaging, the global full-service supplier of packaging products and services, is proud to announce it has earned a spot on the prestigious Chicago Tribune "Top Workplaces" listing for 2016. The Chicago Top Workplaces program, sponsored by the Chicago Tribune in partnership with independent research company WorkplaceDynamics, recognizes those local companies that are not only more desirable places to work, but are also more likely to be more successful than their peer organizations.
Top Workplaces winners are determined by surveys completed anonymously by employees. The study measures more than 20 different components of organizational health important to employees, spanning topics from alignment and corporate involvement to connectedness and supervisor support. The Top Workplaces survey is open to any company with 100 or more employees.
88% of Berlin Packaging's Chicagoland employees responded to the survey. The company scored in the top bracket in all survey areas including organizational engagement, alignment, effectiveness, and connection along with daily management and pay and benefits. Berlin Packaging significantly outperformed its peers in several metrics (scores of more than 25% ahead of benchmark companies), including:
"Company is going in the right direction"
"Operates by strong values and ethics"
"Pay is fair for the work I do"
"Get the formal training I want for my career"
"We do things efficiently and well"
"New ideas are encouraged"
"Feel well-informed about important decisions"
Importantly, 92% of employees would highly recommend working at Berlin to others. In addition, the company received strong scores for "Feel genuinely appreciated" and "Job makes me feel like I am part of something meaningful."
Employees were also given an opportunity to make anonymous statements about their attitudes toward Berlin Packaging as a company in which to grow personally and professionally. Responses included:
"This train never stops. Solid, transparent leadership sets aggressive but attainable goals to grow the business. We have a smart business model and results-driven culture that creates profitable partnerships for customers, suppliers, and employees alike."
"I love working for a growing company that truly cares about their employees. It's fun and rewarding to be able to directly impact the bottom line."
Berlin Packaging also conducts its own employee survey on an annual basis. The most recent study found the company's employee engagement to be 2 ½ times higher than levels Gallup reports for the average American company, a statistic that contributes to Berlin's 94% employee retention rate.
"Exceptional companies communicate the 'why' they exist—not just the 'what' and 'how,'" said Lauren Suva, Director of Talent Acquisition for Berlin Packaging. "At Berlin Packaging, we take pride in helping our customers grow their bottom lines and becoming greater, faster. This optimistic and results-oriented approach allows us to attract and embrace employees who think the same way. People who are smart, creative, optimistic and action-oriented are the kind of employees that make a great workplace possible."
Another important part of Berlin Packaging's approach to workplace thrill is employee development. One example of this is a new leadership training program in which 24 managers recently underwent a nine-month process to develop their leadership skills.
"What drives success in the packaging business isn't patents or special technologies, it's execution," noted Andrew Berlin, Chairman and CEO of Berlin Packaging. "This precision is ultimately driven by our people and the Berlin Values we use to embrace and motivate our team. We've been able to outgrow the packaging market by ten-fold by building a competitive advantage in our HR competencies."
After hiring 136 new people in the past 12 months, the company now employs more than 900 people worldwide. Berlin recently acquired Bruni Glass to significantly extend its presence in Europe and Canada. To learn more about Berlin Packaging and to review open positions, visit BeABerliner.com.