By: Berlin Packaging Specialist
Date: October 20, 2019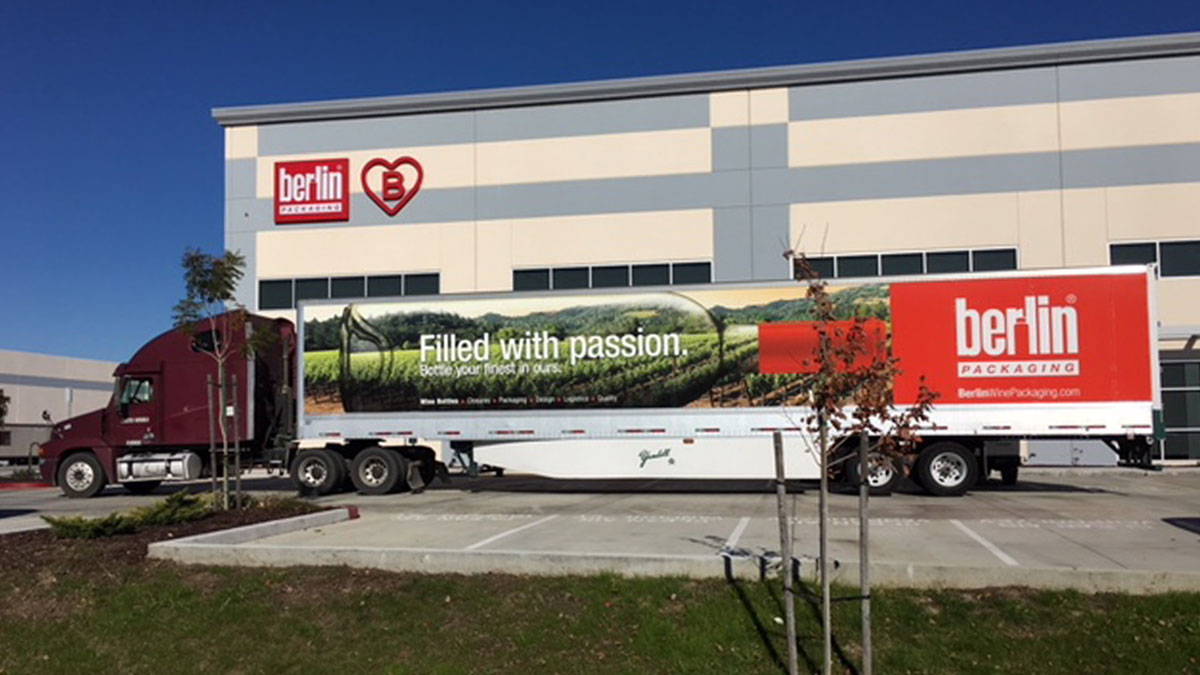 Berlin Packaging, the leading full-service supplier of glass, plastic, and metal containers and closures, has dramatically increased its expansive wine-country footprint and overall operational capacity in Northern California and the Pacific Northwest, with the official opening of their 430,000-square-foot office and distribution center in Fairfield.
An impactful addition to the company's strong California presence, with existing facilities in Hayward, Rancho Cucamonga, Santa Ana and multiple other locations, the state-of-the-art Fairfield facility expands total space available while also improving operational efficiencies and adding a world-class office for the local team of almost 100 employees, who are part of a global team of 1,000. Berlin also maintains West coast warehousing in Arizona, Nevada, Utah, and in the Pacific Northwest.
Valued at $2.6 billion with over 100 sales and warehouse locations across North America and Europe, Berlin Packaging provides an unparalleled level of customer service and operational excellence in the packaging industry. This move is the most recent investment as this dynamic organization continues to expand and improve its physical facilities and grow its workforce.
Increased Space Providing Cost-Saving Inventory Solutions
Designed to meet the needs of forward-thinking customers looking for packaging solutions that add to their bottom line, the Fairfield facility helps businesses of all types improve their supply chain with complete inventory management solutions that help cut expenses, improve productivity, and boost cash flow by taking inventory off customers' production floors.
Reliable inventory management is a cornerstone of what Berlin Packaging brings to its customers. The company delivers more than 300,000 shipments annually at 99% on-time accuracy and has held this track-record for 162 consecutive months.
New Facility Offers One-Stop Excellence
Conveniently located off I-80 in the new Gateway Business Park, the warehouse is at the center of economic activity in Solano County.
The new facility houses a dedicated quality laboratory and on-site Quality team, a flexible re-packing operation to get customers products in the most convenient format, and a large product showcase to inspire ideas and innovation.
Berlin Packaging's unparalleled purchasing power, including the industry's strongest network of both domestic and global manufacturing partners, continues to benefit area customers in the wine, spirits, and beer sectors, which add to the company's strength in beverage, food, personal care, and cannabis.
Berlin Packaging Continues to Grow with the Region
Berlin expanded their stronghold in the Napa Valley region in 2015 when they acquired Diablo Valley Packaging, a significant regional packaging player. With the 2016 purchase of Italy-based Bruni Glass, an expert in premium and specialty glass packaging with multiple locations in Europe and North America, Berlin Packaging added thousands of innovative packaging options designed specifically for the wine, spirits, and gourmet food markets.
The company recently launched a new portal for its wine business, BerlinWinePackaging.com, which is supported by a fleet of branded trucks.
"Our investments in warehousing, facilities, leadership, inventory, and our people show our commitment to be the preeminent packaging supplier for the wine industry and the entire region," said Andrew Berlin, Chairman and CEO of Berlin Packaging. "And the swift growth we are seeing shows that companies are yearning for the creativity, precision, and competitiveness that we bring to every situation in California and around the world."