By: Berlin Packaging Specialist
Date: October 20, 2019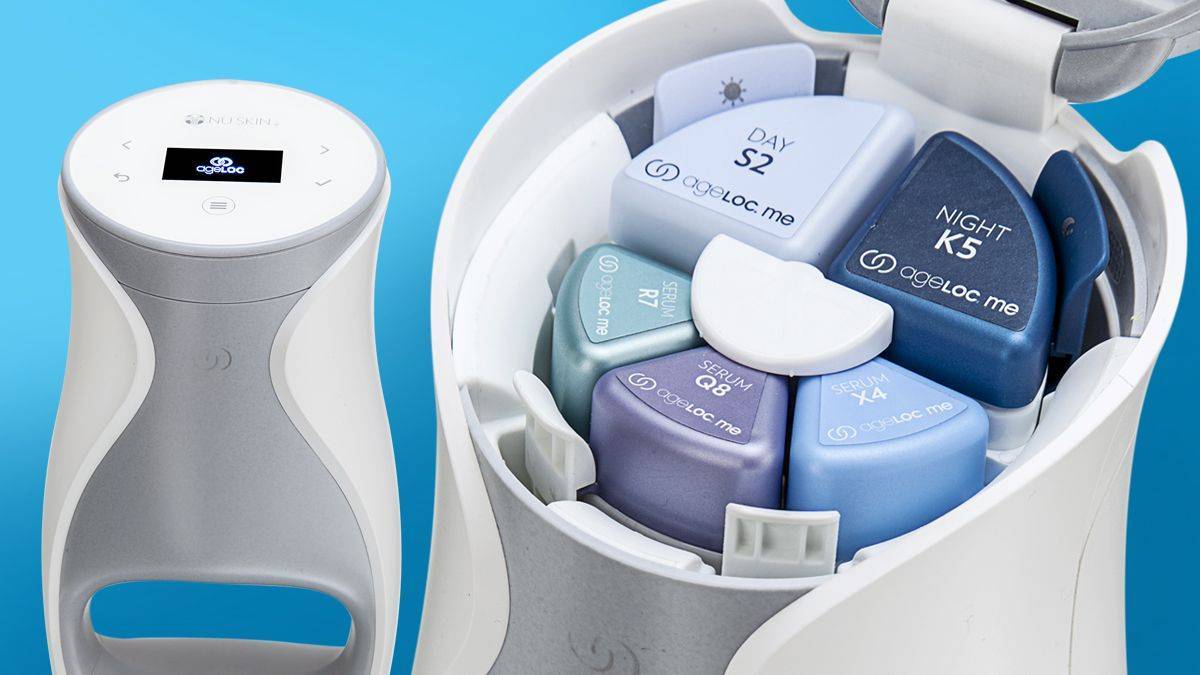 Skin care regimens have been around since the Egyptians used aloe to ward off the hot African sun. Yet it took the innovative thinking of Nu Skin Enterprises, along with the packaging expertise of Berlin Packaging and a global team of suppliers, to alter the way modern skin care products are marketed and used, through the development of Nu Skin's new ageLOC Me skin care device.
Nu Skin, a major distributor of anti-aging products with operations in 54 countries, developed ageLOC Me as a way for consumers to customize their skin care regimen. After an app-based analysis of the individual's age, type of skin, daily routine, climate, and even time of year, Nu Skin ships the user a complete regimen consisting of five specifically formulated ageLOC products—one day cream, one night cream and three treatment serums. These products are inserted into a smart countertop device that dispenses a precise dose twice a day: one dose of the serum formulas followed by the day cream in the morning; and at night, another dose of the serums followed by the night cream.
It took the imagination of Berlin Packaging's Studio One Eleven design and engineering team, along with other suppliers, to design, engineer and produce the complex collection of packaging elements required for the ageLOC Me device.
"ageLOC Me is, quite simply, a game changer—not just for the skin care industry but also for consumer products in general. There is nothing like it on the market today," said Scott Jost, Vice President of Innovation and Design for Berlin Packaging. "The vision Nu Skin had for this innovative device challenged us at Berlin Packaging to help create something truly unique. We're confident ageLOC Me will be a transformative milestone for the personal care category."
In addition to serving as design facilitator for the ageLOC Me device itself, Studio One Eleven served as lead on the consumable components, sourcing and vetting the partners from around the world needed to develop the airless dispensing components. The Studio also facilitated the marriage of the device with the consumables.
The resulting ageLOC Me device holds five PETG cartridges, each housing a multilayer COEX bag filled under vacuum to preserve the product inside and ensure the best possible restitution rate. ageLOC Me products are dispensed in a precise dose into the user's hand using battery-powered touchless technology. With the ageLOC Me system's large array of available creams and serums, almost two thousand customized regimen combinations are possible.
Berlin Packaging's design expertise was just one part of the support provided to Nu Skin. Berlin also serves as inventory management partner to Nu Skin, warehousing all consumable components at Berlin's Salt Lake City warehouse.
"Modern technology has had a dramatic impact on today's consumer. Customized products that meet the needs of the individual are no longer a desire—they're an expectation," noted Jason McPhie, Senior Account Manager at Berlin Packaging. "Nu Skin has taken this challenge and, with ageLOC Me, responded with a product that completely redefines personalized skin care."