By: Berlin Packaging Specialist
Date: October 20, 2019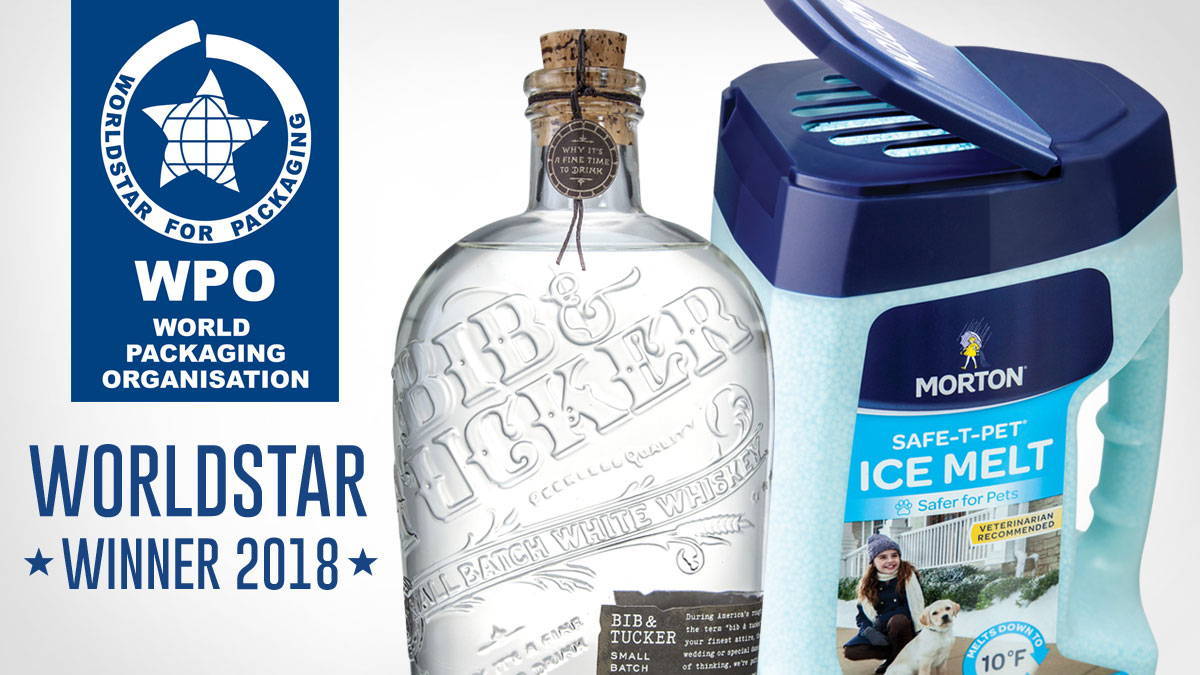 Berlin Packaging, the leading full-service supplier of plastic, glass, and metal containers and closures, recently won in the Beverage and Household categories of the WorldStar Packaging Awards, the preeminent international packaging competition sponsored by the World Packaging Organisation (WPO).
Judged by packaging industry experts during the most recent WPO annual meeting in Rio de Janeiro, Brazil, the WorldStar Awards are open only to entries that previously won in a national or multi-national competition recognized by the organization. As the marquee international packaging competition, the 2017 edition attracted 318 entries from 38 countries.
Bib & Tucker White Whiskey
In the Beverage category, the Bib & Tucker Small Batch White Whiskey bottle conveys the handcrafted, elite quality of the liquor inside. The bottle is an enlarged flask with ornate, deeply-embossed hand lettering and embellishments. The heavy cork, secured with black twine to the bottle's neck, encourages consumers to celebrate each glass poured. All these details reinforce the brand's reference to a time when "bib and tucker" was used to describe your finest attire.
Morton Salt Safe-T-Pet
In the Household category, Morton Salt's new, patented bottle for Safe-T-Pet provides maximum utility for a product formulated to melt sidewalk ice yet prevent harm to pets. The package features an ergonomic handle with enough room to fit a gloved hand, an easy-pour lid, and improved column strength for better supply-chain resilience. The new container appears chiseled from a block of ice to achieve a modern look that stands out well from other ice melt products.
A Record Setting Year of Awards
Including the two WorldStar wins, Berlin Packaging achieved a new annual record for awards won in packaging competitions. In addition to WorldStar, Berlin Packaging had success in 2017 competitions including the IFE World Food Innovation Awards, PAC Global Leadership Awards, North American Retail Hardware Association Awards, and the National Association of Container Distributors Awards.
Berlin Packaging's Bruni Glass team also hosted its own competition, the 14th edition of the Bruni Glass Design Awards, which engages students at top design schools to create innovative new shapes for the specialty glass market.
This success in international competitions highlights Berlin Packaging's continued commitment to innovative design and cutting-edge packaging solutions for customers across all sectors.
"While we supply billions of containers and closures to thousands of companies around the globe every year, we believe that each package must be held to the highest standards, and we are thankful for this recognition from the WPO," stated Andrew Berlin, Chairman and CEO of Berlin Packaging. "Whether it's a custom-designed package like the two recognized here, or a selection from our huge array of stock solutions, we wrap everything we do with our passion for execution."
The winners of the WorldStar Packaging Awards will be recognized at an awards ceremony and gala on May 2, 2018, in Australia during the Australian Institute of Packaging National Conference.