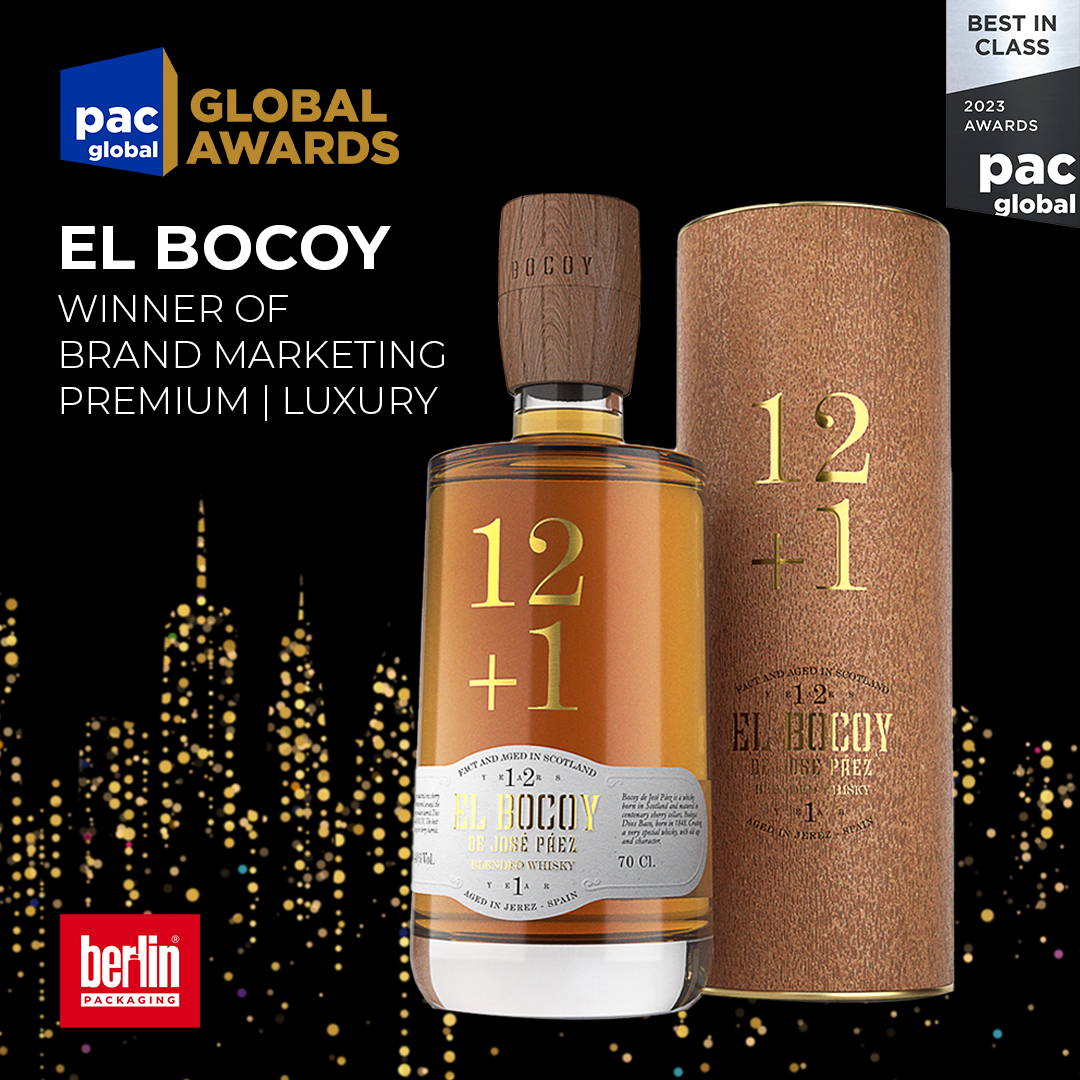 At the Pac Global Awards ceremony in New York City on February 7, 2023, Berlin Packaging — the world's largest Hybrid Packaging Supplier — captured a Best In Class Award in the Brand Marketing, Premium | Luxury category for its package design of El Bocoy de José Páez Whiskey from Spanish distillery Bodegas Dios Baco.
For El Bocoy de José Páez whiskey, Berlin Packaging's mission was to help Bodegas Dios Baco create a brand and packaging that would align with the high quality of the product. As part of Berlin's "one-stop-shop" capabilities for the customer, the design team in Milan created and engineered the glass structure, while the team in Seville developed the branding along with the custom closure and secondary canister package.
The El Bocoy de José Páez project combines tradition and contemporary aesthetics, making it appealing to younger audiences without losing its connection to the product's legacy and culture. The glass bottle features a modern graphic line, which enhances the product inside. Made of carved and stained wood, the personalized barrel-shaped closure adds a vintage look. The lightweight and recyclable canister —constructed of paperboard and metal — follows the graphic line of the bottle and completes the packaging.
"We are grateful for the Best In Class recognition from Pac Global for the El Bocoy project in the Luxury category," commented Andrew Sanguinet, Chief Design Officer of Berlin Packaging EMEA. "It is an honor to be awarded amongst other world-class teams and by such a respected panel of judges. Our design teams in Seville and Milan collaborated to develop every element of this program for Bodegas Dios Baco. We are proud that every detail was built from scratch by our team and is a testament to their skill and Berlin's capabilities and hybrid expertise."
Berlin Packaging's full-service approach to innovation combines analysis of user needs, market research, and insights to build a foundation for our brand and industrial design teams to explore numerous creative solutions. The teams then develop the selected concept, build prototypes, and refine the design until it meets both the original design vision and the manufacturing requirements, resulting in creative packaging that is suitable for the real world.