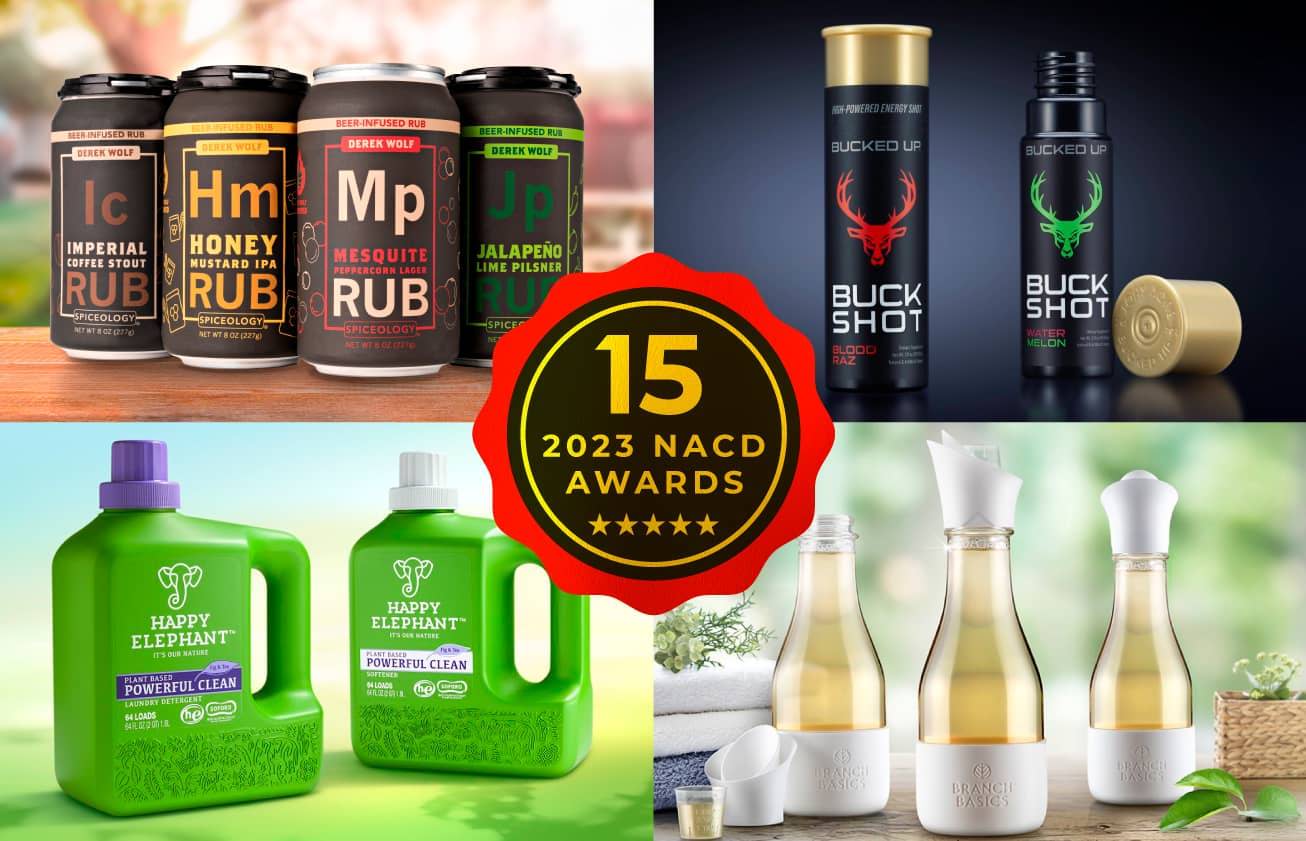 Berlin Packaging, the world's largest Hybrid Packaging Supplier®, received 15 awards from the 2023 National Association of Container Distributors (NACD) Packaging Awards, the most given to a single supplier for a third year in a row. The NACD Awards celebrate the most innovative packaging solutions released during the previous year. Including these latest victories, Berlin Packaging has now amassed over 100 NACD awards over the last decade.
Winning seven Gold, five Silver, and three Bronze awards, Berlin Packaging demonstrated innovation and excellence in 11 categories, including: Food, Beverage Spirits, Beverage Non-Spirits, Personal Care, Household Products, Pet and Vet, Novelty, Best Use of Stock Components, Best Sustainable Packaging, Best Use of Custom Packaging, and Automotive, Chemical, and General Industrial.
These accolades highlight Berlin Packaging's commitment to world-class innovation, with numerous awards attributed to the company's innovation and design center, Studio One Eleven®. The Studio offers branding strategy, package development, and sustainability consulting services and waives its fees in exchange for packaging supply opportunities. "Studio One Eleven's world-class suite of services is one of the many things that makes Berlin Packaging unique. I'm grateful to the NACD for recognizing our incredibly talented team and their outstanding work," said Scott Jost, Berlin's Chief Innovation Officer.
"We are especially proud of our strong performance at this year's NACD awards," said Rick Brandt, CEO Berlin Packaging, Americas. "Our number one priority is driving our customers' bottom-line growth through world-class services and packaging solutions, and it is an honor to be recognized for the innovation and creativity that goes into helping our customers excel in the marketplace."
Some of this year's winning projects include:
Spiceology Rubs – Double Award Winner: Food (Gold), Best Use of Stock Components (Gold)
The flavor experts at Spiceology create innovative, easy-to-use spice blends that help home chefs get creative in the kitchen, so when the brand launched a new line of spice rubs, they got creative with their packaging too. Typically used for beverages, aluminum cans help Spiceology stand out on shelves. The use of a bold black background and periodic table graphics tie back to the brand, but the unique packaging format sets it apart from other products in the line. Though the rubs are intended for single use, a resealable lid is included for versatility.
Branch Basics – Household Products (Gold)
When Branch Basics decided to expand their premium portfolio of refillable packaging solutions with a new laundry detergent bottle, they returned to Berlin Packaging's innovation and design center. Starting with a simple stock bottle, the design team developed a custom drain-back dispenser, the shape, size, and silhouette of which seamlessly integrate with the bottle for optimized handling and dispensing (not to mention a sleek aesthetic). The engineering team helped perfect the challenging pour spout shape, conducting several rounds of testing to ensure it was manufacturable and leak-proof, and a small dosing cap was incorporated for added functionality and all-in-one convenience. A custom silicone boot is an additional premium feature that not only protects the glass bottle but maintains consistency with the brand's other refill products.
El Bocoy – Double Award Winner: Beverage Spirits (Silver), Best Use of Custom Packaging (Silver)
As a new product in the crowded and competitive whiskey market, El Bocoy knew they needed unique and impactful packaging to stand out to consumers. The design team at Berlin Packaging took inspiration from the complex process of making whiskey and used the importance of oak barrels as a key theme in the package design. The unique custom cap is made of carved wood with a soft curve that mimics the shape of a whiskey barrel, and the canister that houses the product is made of lightweight, recyclable cardboard that mimics wood – another nod to the barrel. The sleek glass bottle was selected for its clean lines and simple silhouette, and the modern design and minimal graphics do not hide the product but rather enhance it, setting a trend among whiskeys.
Other Berlin Packaging winners are:
Beverage Non-Spirits (Gold)

Automotive, Chemical, and General Industrial (Gold)

Best Sustainable (Gold)

Personal Care (Gold)

Food (Silver)

Beverage Spirits (Silver)

Novelty (Silver)

Household Products (Bronze)

Pet and Vet (Bronze)

Novelty (Bronze)