By: Berlin Packaging Specialist
Date: October 20, 2019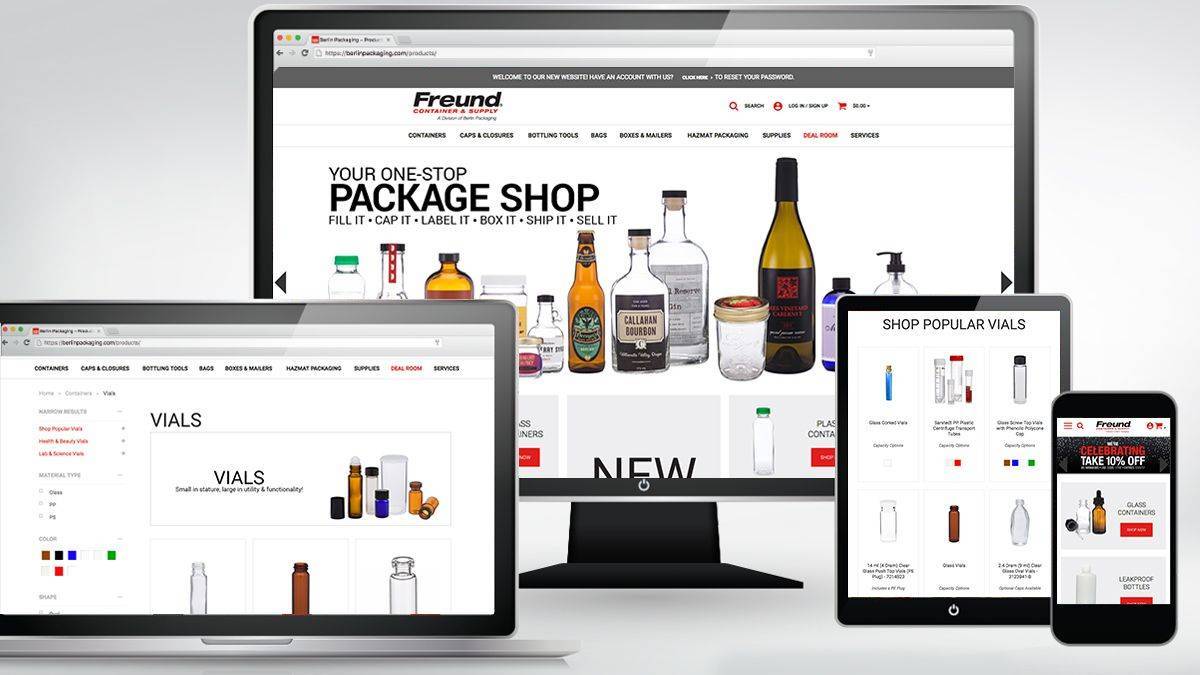 Berlin Packaging, the world's leading supplier of plastic, glass, and metal containers and closures, today announced the launch of a newly-designed website for Freund Container & Supply, a division focused on convenience quantities of packaging and industrial supplies. Built to provide an unparalleled user experience, FreundContainer.com sets a new online shopping standard for the packaging industry.
With extensive updates to the site design and functionality, combined with the 10,000+ items Freund is known for, customers now benefit from a richer digital shopping experience that is increasingly interactive and easier to navigate. The site's game-changing features include:
- The "Deal Room" – Exclusive to Berlin Packaging and FreundContainer.com, this advanced digital platform allows customers to purchase top-tier containers at their preferred offer price. In virtual negotiations, customers make an offer on the desired product and then Freund may either accept or counter-offer until both parties are satisfied and agree upon a purchase price.
- Custom Label Creator – Beginning with professionally-designed templates, customers build and order their custom labels by choosing fonts, text, images, label shapes, colors and advanced options like image or logo uploading.
- Advanced "My Account" Settings – The enhanced "My Account" section streamlines the purchasing process with one-touch reordering and many other time-saving features. With the new integrated shopping experience, customers can generate and print invoices plus view credit lines and account balances all in one portal.
"We strive to deliver thrilling service with every interaction. Our new website distinguishes our shopping experience on top of our in-stock availability, high-quality products, and low-price guarantee," said Rebecca Gummerson, Director of E-commerce at Berlin Packaging. "Our game-changing innovations and simplified package selection process are already getting rave reviews."
Freund Container & Supply, a division of Berlin Packaging, has been supplying packaging and industrial supplies since 1938 and continues that tradition of excellence with the revamped website. The company provides a case, pallet, and truckload quantities to more than 40,000 customers each year out of its warehouses in Atlanta, GA, Streator, IL, and Sparks, NV.