3 Personal Care Packages as Unique as the Product Inside
Packaging for wellness, makeup and personal care items must represent the brand while showcasing the product inside. These three packages hit the right balance of uniqueness while remaining user-friendly.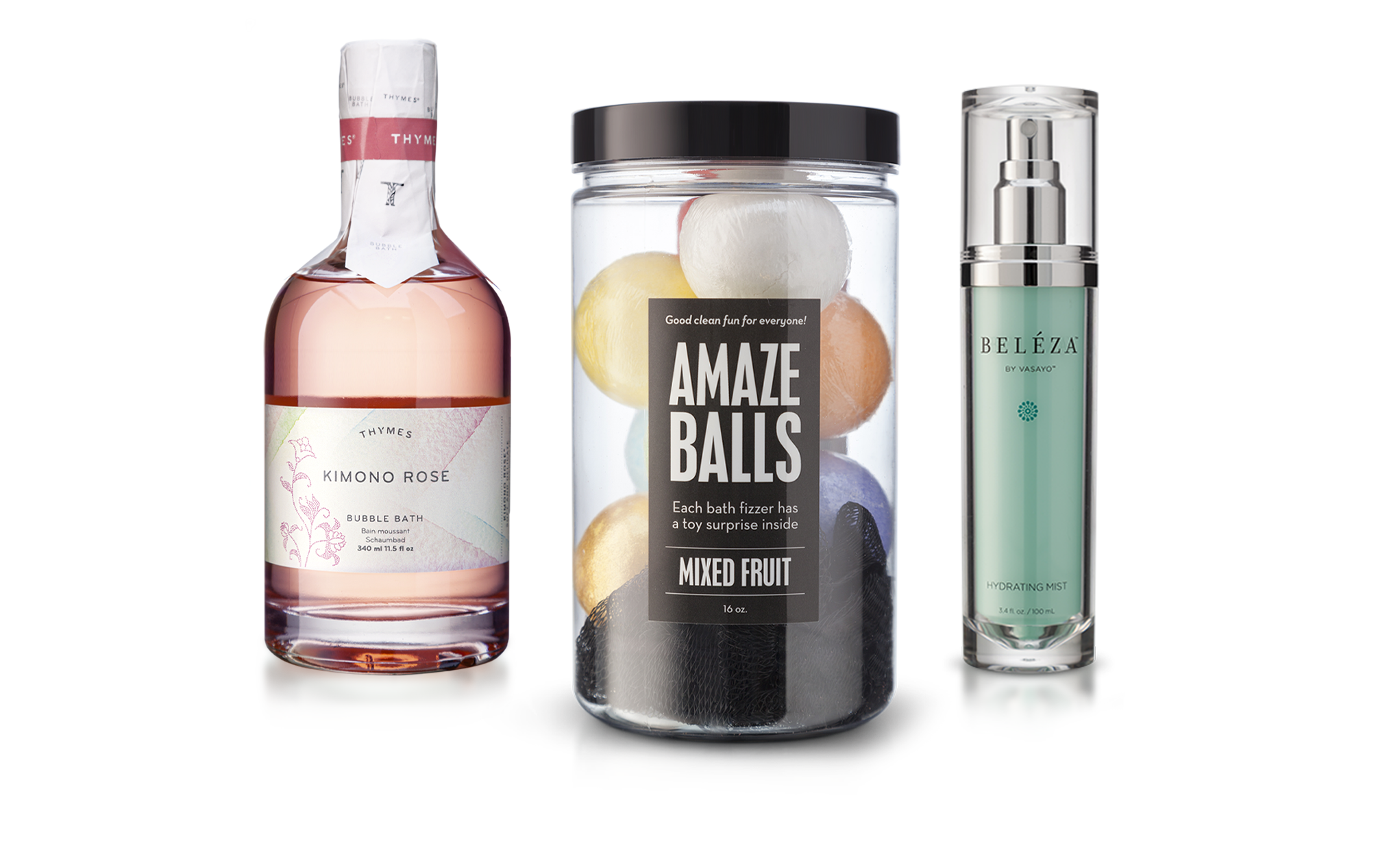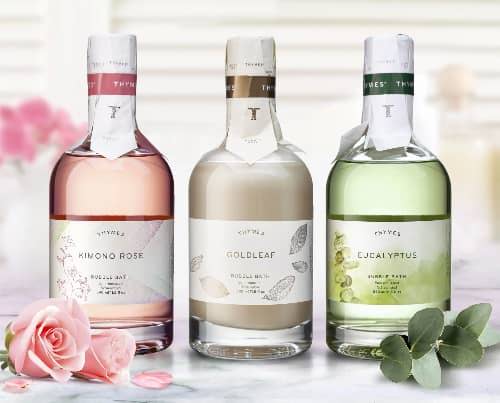 Thymes: A Reimagined Spirits Bottle Adds Luxury to a Bubble Bath
Creating distinction in the crowded luxury personal care market isn't easy. Especially with bubble baths, a category known for creative packaging and established branding.
That's why Thymes turned to Berlin Packaging to deliver a packaging experience that truly creates brand and shelf distinction. Thymes specified that they wanted a package that conveys what awaits inside, mounds of luxurious bubbles enriched with conditioning humectant glycerin and revitalizing sakura and noni extracts.
The Berlin Packaging team worked with Thymes to switch to a 375ml stock flint glass bottle typically used for spirits packaging. The clear glass showcases the beautiful array of product colors and creates a true premium feel. The cork closure has a decorative paper overlay with a paper band label to clearly display the brand. Each variety - Aqua Coralline, Eucalyptus, Goldleaf, Lavender, Neroli Sol, Tupelo Lemongrass, Vanilla Blanc – has a decorative label to compliment the scent profile, while not detracting from the beautiful flint glass bottles.
The resulting package is undoubtedly premium providing brand distinction in a complex category.
Vasayo: Elegant Packaging for Premium Direct Sales Skincare
Packaging for direct sales products, while different than packaging that needs to stand out on the retail or even digital shelf, still must convey a powerful brand identity, as they are not only trying to attract consumers, but brand ambassadors, the main sales channel of the business model. Vasayo's promise is that while their innovative delivery systems produce superior products, the opportunity delivers freedom for individuals seeking greater autonomy for their work-life balance.
Vasayo turned to the Berlin Packaging to find high-end, elegant packaging, at an affordable price, for their Beleza line of science-based skin care products. The skincare brand wanted a cohesive look for the serum, rejuvenating cream, and hydrating mist and needed well-functioning airless pumps. With a tight project timeline, there was no opportunity for a full custom package. Instead, Berlin Packaging's team chose a resin color match for the bottles and a silver over-shell on the closures.
The result, a premium skincare line that beckons both the buyer and the brand ambassador.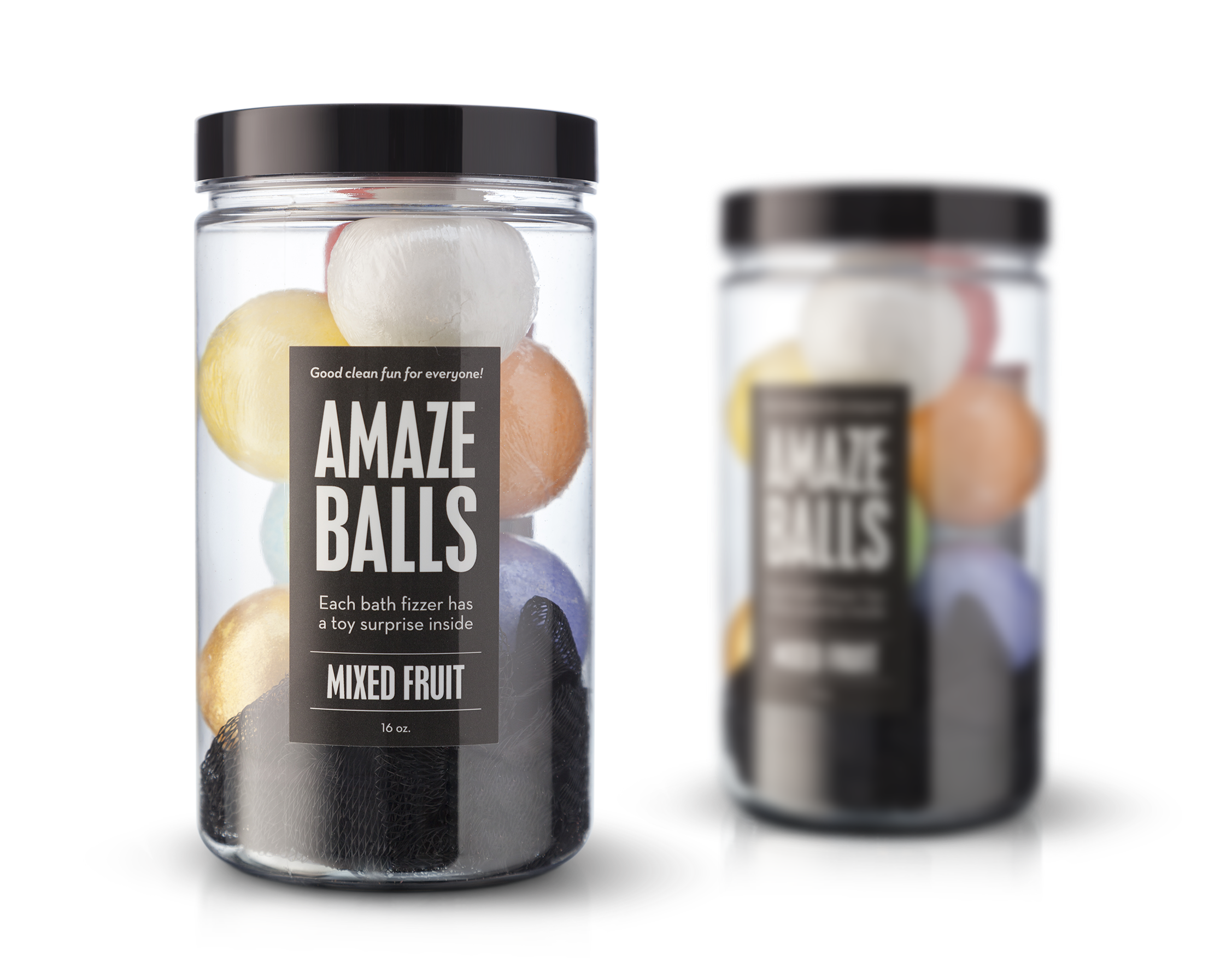 Amazeballs: Putting the Product on Display
To convey novelty in a product, sometimes simple packaging lets the product tell the story.
And for Amaze Balls, the name says it all. As these mixed fruit fizzers dissolve, there's a surprise inside each one. Perfect for adults and kids alike. (Everyone loves surprises.) For some fizzy fun, simply fill your tub with warm water and drop in one to three of these fragrant fizzers.
The Berlin Packaging team decided to let the colorful product tell the story by using a 24 oz, clear, PET straight-sided jar that puts the bath bombs themselves on display. The label is bold but doesn't fight with the festive product inside. The black CT closure works to offset the bath sponge at the bottom, bringing package uniformity.